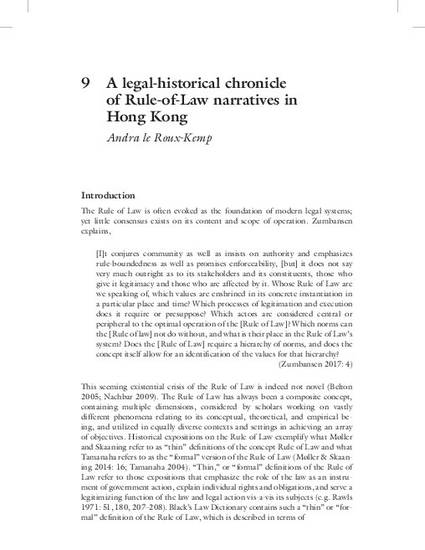 Contribution to Book
A Legal-Historical Chronicle of Rule-of-Law Narratives in Hong Kong
Global Legal History - A Comparative Law Perspective (2019)
Abstract
Hong Kong is a particularly interesting locus for the study of the seemingly existential crisis of the concept "Rule of Law", as it presents various dichotomies for comparison; "East" versus "West", common law versus civil law, and Western-style democracy versus the Chinese one-party socialist government. In this Chapter it will be shown with regard to how the Rule of Law and its discourse have been conceptualised and utilised in the context of Hong Kong, that an exclusively legal and positivist analysis precludes a proper understanding of how the law and its subjects participate in the (legal) fabrication and contestation of this concept.
Keywords
Rule of Law,
Postcolonialism,
People's Republic of China,
Hong Kong Special Administrative Region,
Constitutive Rhetoric
Publication Date
January, 2019
Editor
Tate, Joshua C., Reinaldo de Lima Lopes, Jose and Botero-Bernal, Andres
Citation Information
Andra le Roux-Kemp. "A Legal-Historical Chronicle of Rule-of-Law Narratives in Hong Kong"
Global Legal History - A Comparative Law Perspective
(2019) p. 158 - 175
Available at: http://works.bepress.com/andra-leroux-kemp/30/