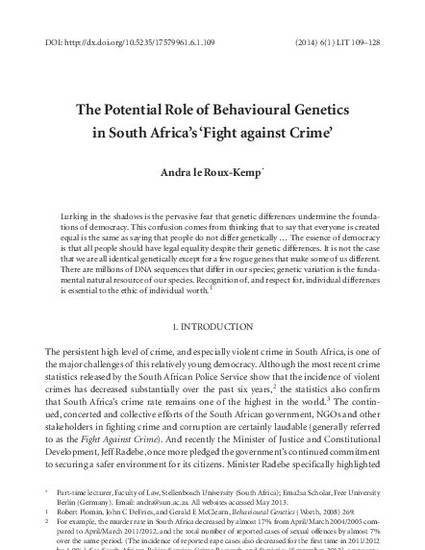 Article
The potential role of behavioural genetics in South Africa's "Fight against Crime"
Law, Innovation and Technology (2014)
Abstract
Lurking in the shadows is the pervasive fear that genetic differences undermine the foundations of democracy. This confusion comes from thinking that to say that everyone is created equal is the same as saying that people do not differ genetically ... The essence of democracy is that all people should have legal equality despite their genetic differences. It is not the case that we are all identical genetically except for a few rogue genes that make some of us different. There are millions of DNA sequences that differ in our species; genetic variation is the fundamental natural resource of our species. Recognition of, and respect for, individual differences is essential to the ethic of individual worth.
Keywords
Behavioural Genetics;,
Criminal Justice,
Sentencing
Citation Information
Andra le Roux-Kemp. "The potential role of behavioural genetics in South Africa's "Fight against Crime""
Law, Innovation and Technology
Vol. 6 Iss. 1 (2014) p. 109 - 128
Available at: http://works.bepress.com/andra-leroux-kemp/19/