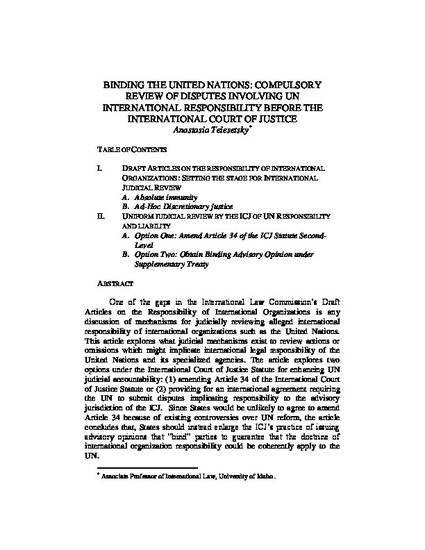 Unpublished Paper
Binding the United Nations
ExpressO (2011)
Abstract
One of the gaps in the International Law Commission's Draft Articles on the Responsibility of International Organizations is any discussion of mechanisms for judicially reviewing responsibility of international organizations such as the United Nations. This article explores what judicial mechanisms exist to review actions or omissions which might implicate international legal responsibility of the United Nations and its specialized agencies.
The article explores two options under the International Court of Justice Statute for enhancing UN judicial accountability: (1) amending Article 34 of the International Court of Justice Statute or (2) providing for an international agreement requiring the UN to submit disputes implicating responsibility to the advisory jurisdiction of the ICJ. Since States would be unlikely to agree to amend Article 34 because of existing political controversies over UN reform, the article concludes that, States should instead enlarge the ICJ's practice of issuing advisory opinions that bind parties to guarantee that the doctrine of international organization responsibility can be applied to the UN.
Keywords
United Nations,
responsibility of international organizations,
International Court of Justice,
binding advisory opinions,
ICJ Statute Article 34,
ICJ Statute Article 65
Publication Date
March 28, 2011
Citation Information
Anastasia M Telesetsky. "Binding the United Nations"
ExpressO
(2011)
Available at: http://works.bepress.com/anastasia_telesetsky/4/