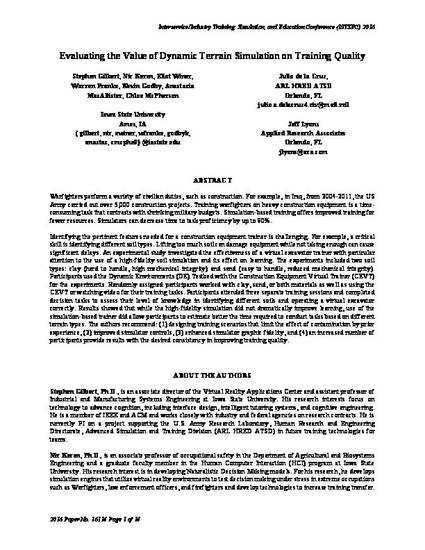 Presentation
Evaluating the Value of Dynamic Terrain Simulation on Training Quality
Proceedings of the 2016 Interservice/Industry Training, Simulation, and Education Conference (I/ITSEC)
Document Type
Conference Proceeding
Publication Version
Published Version
Publication Date
1-1-2016
Conference Title
Interservice/Industry Training, Simulation, and Education Conference (I/ITSEC) 2016
Conference Date
November 28-December 2, 2016
Geolocation
(28.5383355, -81.37923649999999)
Abstract
Warfighters perform a variety of civilian duties, such as construction. For example, in Iraq, from 2004-2011, the US Army carried out over 5,000 construction projects. Training warfighters on heavy construction equipment is a timeconsuming task that contrasts with shrinking military budgets. Simulation-based training offers improved training for fewer resources. Simulators can decrease time to task proficiency by up to 90%.
Identifying the pertinent features needed for a construction equipment trainer is challenging. For example, a critical skill is identifying different soil types. Lifting too much soil can damage equipment while not taking enough can cause significant delays. An experimental study investigated the effectiveness of a virtual excavator trainer with particular attention to the use of a high-fidelity soil simulation and its effect on learning. The experiments included two soil types: clay (hard to handle, high mechanical integrity) and sand (easy to handle, reduced mechanical integrity). Participants used the Dynamic Environments (DE) Testbed with the Construction Equipment Virtual Trainer (CEVT) for the experiments. Randomly assigned participants worked with clay, sand, or both materials as well as using the CEVT or watching video for their training tasks. Participants attended three separate training sessions and completed decision tasks to assess their level of knowledge in identifying different soils and operating a virtual excavator correctly. Results showed that while the high-fidelity simulation did not dramatically improve learning, use of the simulation-based trainer did allow participants to estimate better the time required to conduct tasks based on different terrain types. The authors recommend: (1) designing training scenarios that limit the effect of contamination by prior experience, (2) improved simulator controls, (3) enhanced simulator graphic fidelity, and (4) an increased number of participants provide results with the desired consistency in improving training quality.
Rights
Works produced by employees of the U.S. Government as part of their official duties are not copyrighted within the U.S. The content of this document is not copyrighted.
File Format
application/pdf
Citation Information
Stephen B Gilbert, Nir Keren, Eliot H. Winer, Warren D. Franke, et al.. "Evaluating the Value of Dynamic Terrain Simulation on Training Quality" Orlando, FL
Proceedings of the 2016 Interservice/Industry Training, Simulation, and Education Conference (I/ITSEC)
(2016) p. 16114
Available at: http://works.bepress.com/anastacia-macallister/12/