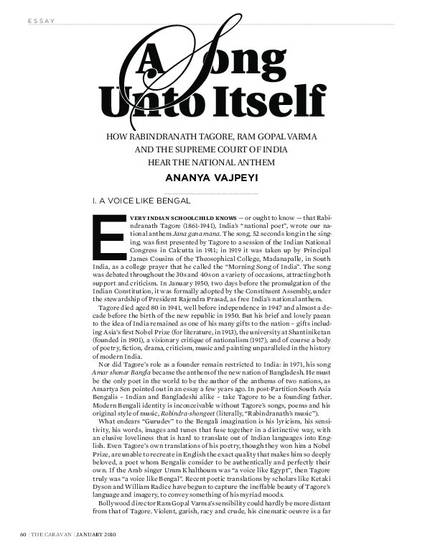 Article
A Song Unto Itself: How Rabindranath Tagore, Ram Gopal Varma and the Supreme Court of India Hear the National Anthem
History Faculty Publication Series
Publication Date
1-1-2010
Abstract
Every Indian schoolchild knows - or ought to know that Rabindranath Tagore (1861-1941), India's "national poet", wrote our national anthem Jana gana mana. The song, 52 seconds long in the singing, was first presented by Tagore to a session of the Indian National Congress in Calcutta in 1911; in 1919 it was taken up by Principal James Cousins of the Theosophical College, Madanapalle, in South India, as a college prayer that he called the "Morning Song of India". The song was debated throughout the 30s and 40s on a variety of occasions, attracting both support and criticism. In January 1950, two days before the promulgation of the Indian Constitution, it was formally adopted by the Constituent Assembly, under the stewardship of President Rajendra Prasad, as free India's national anthem.
Community Engaged/Serving
No, this is not community-engaged.
Citation Information
Ananya Vajpeyi. "A Song Unto Itself: How Rabindranath Tagore, Ram Gopal Varma and the Supreme Court of India Hear the National Anthem" (2010)
Available at: http://works.bepress.com/ananya_vajpeyi/12/