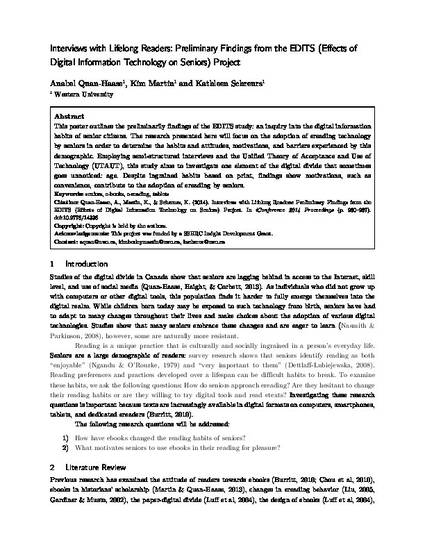 Presentation
Interviews with Lifelong Readers: Preliminary Findings from the EDITS (Effects of Digital Information Technology on Seniors) Project
iConference 2014 Proceedings
Document Type
Presentation
Publication Date
1-1-2014
Abstract
This poster outlines the preliminarily findings of the EDITS study: an inquiry into the digital information habits of senior citizens. The research presented here will focus on the adoption of ereading technology by seniors in order to determine the habits and attitudes, motivations, and barriers experienced by this demographic. Employing semi-structured interviews and the Unified Theory of Acceptance and Use of Technology (UTAUT), this study aims to investigate one element of the digital divide that sometimes goes unnoticed: age. Despite ingrained habits based on print, findings show motivations, such as convenience, contribute to the adoption of ereading by seniors.
Citation Information
Anabel Quan-Haase, Kathleen Schreurs and Kim Martin. "Interviews with Lifelong Readers: Preliminary Findings from the EDITS (Effects of Digital Information Technology on Seniors) Project"
iConference 2014 Proceedings
(2014)
Available at: http://works.bepress.com/anabel_quan-haase/9/