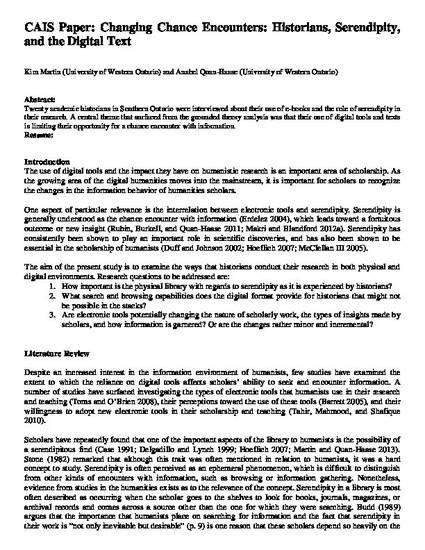 Article
Changing Chance Encounters: Historians, Serendipity, and the Digital Text
Proceedings of the Annual Conference of CAIS / Actes du congrès annuel de l'ACSI
Document Type
Conference Proceeding
Publication Date
1-1-2014
Abstract
Twenty academic historians in Southern Ontario were interviewed about their use of e-books and the role of serendipity in their research. A central theme that surfaced from the grounded theory analysis was that their use of digital tools and texts is limiting their opportunity for a chance encounter with information.
Citation Information
Kim Martin and Anabel Quan-Haase. "Changing Chance Encounters: Historians, Serendipity, and the Digital Text"
Proceedings of the Annual Conference of CAIS / Actes du congrès annuel de l'ACSI
(2014)
Available at: http://works.bepress.com/anabel_quan-haase/8/