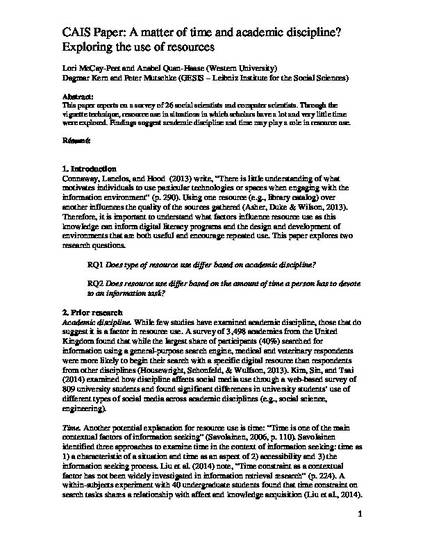 Article
A Matter of Time and Academic Discipline? Exploring the Use of Resources
Proceedings of the Annual Conference of CAIS / Actes du congrès annuel de l'ACSI
Document Type
Conference Proceeding
Publication Date
1-1-2015
Abstract
This paper reports on a survey of 26 social scientists and computer scientists. Through the vignette technique, resource use in situations in which scholars have a lot and very little time were explored. Findings suggest academic discipline and time may play a role in resource use.
Cette présentation rend compte d'une enquête auprès de 26 spécialistes en sciences sociales et en informatique. À l'aide de la technique de la vignette, nous avons exploré l'utilisation des ressources dans les situations où les savants ont beaucoup et à l'inverse très peu de temps. Les résultats suggèrent que les disciplines scientifiques et le temps peuvent jouer un rôle dans l'utilisation des ressources.
Citation Information
Lori McKay-Peet, Anabel Quan-Haase, Dagmar Kern and Peter Mutschke. "A Matter of Time and Academic Discipline? Exploring the Use of Resources"
Proceedings of the Annual Conference of CAIS / Actes du congrès annuel de l'ACSI
(2015)
Available at: http://works.bepress.com/anabel_quan-haase/3/