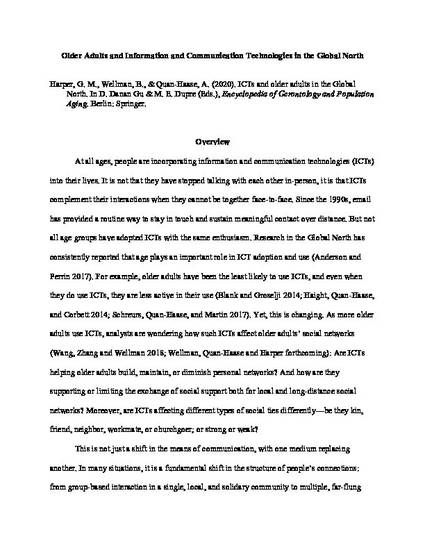 Contribution to Book
Older Adults and Information and Communication Technologies in the Global North
FIMS Publications
Document Type
Book Chapter
Publication Date
3-24-2020
Abstract
At all ages, people are incorporating information and communication technologies (ICTs) into their lives. It is not that they have stopped talking with each other in-person, it is that ICTs complement their interactions when they cannot be together face-to-face. Since the 1990s, email has provided a routine way to stay in touch and sustain meaningful contact over distance. But not all age groups have adopted ICTs with the same enthusiasm. Research in the Global North has consistently reported that age plays an important role in ICT adoption and use (Anderson and Perrin 2017). For example, older adults have been the least likely to use ICTs, and even when they do use ICTs, they are less active in their use (Blank and Groselji 2014; Haight, Quan-Haase, and Corbett 2014; Schreurs, Quan-Haase, and Martin 2017). Yet, this is changing. As more older adults use ICTs, analysts are wondering how such ICTs affect older adults' social networks (Wang, Zhang and Wellman 2018; Wellman, Quan-Haase and Harper forthcoming): Are ICTs helping older adults build, maintain, or diminish personal networks? And how are they supporting or limiting the exchange of social support both for local and long-distance social networks? Moreover, are ICTs affecting different types of social ties differently—be they kin, friend, neighbor, workmate, or churchgoer; or strong or weak?
Creative Commons License
Creative Commons Attribution 4.0
Citation Information
Harper, G. M., Wellman, B., & Quan‐Haase, A. (2020). ICTs and older adults in the Global North. In D. Danan Gu & M. E. Dupre (Eds.), Encyclopedia of Gerontology and Population Aging. Berlin: Springer.