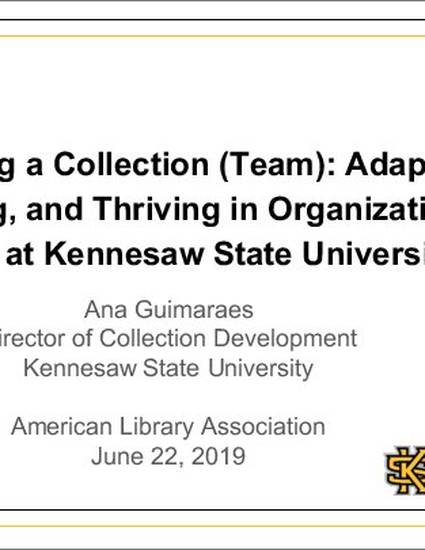 Presentation
Developing a Collection (Team): Adapting, Innovating, and Thriving in Organizational Change at Kennesaw State University
American Library Association Annual Conference (2019)
Abstract
In 2013, the Kennesaw State University (KSU) Library System hired its first Collection Development Librarian.  Since then, the Library System has experienced remarkable changes and growth in many areas, including institutional consolidation, facility renovations, new staffing, and organizational restructuring.  Of note is the establishment and
extraordinary growth
of the Collection Development Unit since 2015.  W
ith a good dose of creativity, t
hese changes enabled us to grow into a flourishing team. By pulling together talent from other library units and creating positions from the ground up, we were able to generate something new.
Within four years of focused and dedicated effort by this highly motivated team, we developed and implemented a broad spectrum of innovative programs and services, including a robust training calendar, comprehensive collection maintenance and assessment plans, a very active undergraduate faculty liaison group, and effective outreach and marketing initiatives with other library units and with the KSU community at large.
Great success never comes easy, and disruptive change is not
unfamiliar to libraries.
 How did we make our case to Library Administration to gain their support, especially when funding and other resources were scarce? What positions were needed the most and what are strategic ways to recruit new team members? How were we going to prioritize the daunting tasks awaiting us? To tackle these inevitable challenges, we employed many innovative strategies and accrued valuable experiences along the way. In this panel presentation, we will share our best practices in team-building, the unorthodox solutions we came up with, as well as the lessons we learned in the process. We hope that our story will inspire and help you to build an outstanding team that is able to thrive on change.
Keywords
Collection Development,
Organizational Change
Publication Date
Summer June 22, 2019
Location
Washington, D.C.
Citation Information
Ana Guimaraes. "Developing a Collection (Team): Adapting, Innovating, and Thriving in Organizational Change at Kennesaw State University"
American Library Association Annual Conference
(2019)
Available at: http://works.bepress.com/ana_luther_guimaraes/30/
Creative Commons License
This work is licensed under a Creative Commons CC_BY-NC-SA International License.