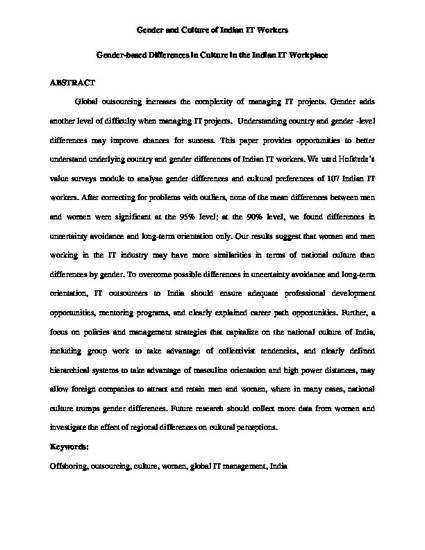 Article
Gender-based differences in culture in the Indian IT workplace.pdf
International Journal of Information Management (2016)
Abstract
Global outsourcing increases the complexity of managing IT projects. Gender adds another level of difficulty when managing IT projects.  Understanding country and gender -level differences may improve chances for success. This paper provides opportunities to better understand underlying country and gender differences of Indian IT workers. We used Hofstede's value surveys module to analyse gender differences and cultural preferences of 107 Indian IT workers.After correcting for problems with outliers, none of the mean differences between men and women were significant at the 95% level; at the 90% level, we found differences in uncertainty avoidance and long-term orientation only. Our results suggest that women and men working in the IT industry may have more similarities in terms of national culture than differences by gender. To overcome possible differences in uncertainty avoidance and long-term orientation, IT outsourcers to India should ensure adequate professional development opportunities, mentoring programs, and clearly explained career path opportunities. Further, a focus on policies and management strategies that capitalize on the national culture of India, including group work to take advantage of collectivist tendencies, and clearly defined hierarchical systems to take advantage of masculine orientation and high power distances, may allow foreign companies to attract and retain men and women, where in many cases, national culture trumps gender differences. Future research should collect more data from women and investigate the effect of regional differences on cultural perceptions.
Keywords
Offshoring,
outsourcing,
culture,
women,
global IT management,
India
Publication Date
March 3, 2016
Citation Information
Woszczynski, A., Dembla, P., Zafar, H. (2016). Gender-based differences in culture in the Indian IT workplace. International Journal of Information Management, 36, 507-519.
Creative Commons license
This work is licensed under a Creative Commons CC_BY-NC-ND International License.