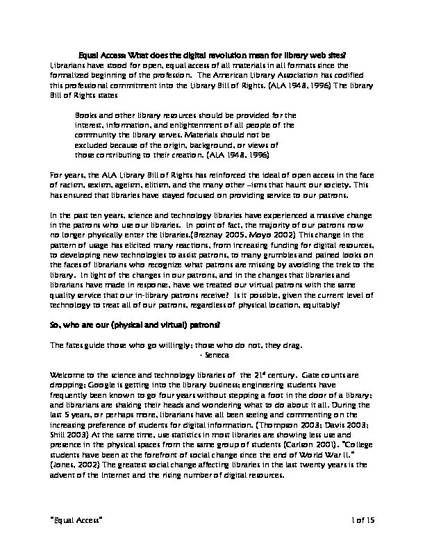 Other
Equal Access: What does the digital revolution mean for library web sites?
Libraries Research Publications
Abstract
Librarians have used the principle of equal access to protect the rights of patrons for years. In light of the digital revolution that has happened in the past ten years, equal access has taken on a new significance. The digital revolution has produced a new patron class who primarily access the library's resources through the library website. These patrons, primarily undergraduate college students, are technologically savvy, have high expectations for customer service, and are format agnostic, prizing resource proximity over quality. Based on this understanding of our new patrons, librarians must seek to create equal access through the library website.
Keywords
Equal access,
virtual patrons,
local patrons,
web design
Published in:
Science and Technology Libraries 26(1/2) 2006: 157-173
Date of this Version
2-1-2006
Citation Information
Megan R. Sapp and Amy S Van Epps. "Equal Access: What does the digital revolution mean for library web sites?" (2006)
Available at: http://works.bepress.com/amy_vanepps/2/