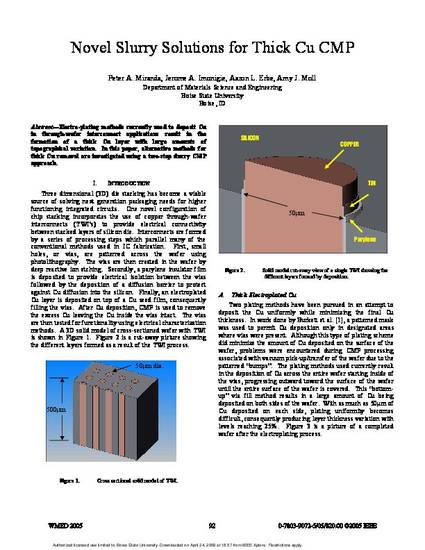 Article
Novel Slurry Solutions for Thick Cu CMP
IEEE Workshop on Microelectronics and Electron Devices, 2005
Document Type
Conference Proceeding
Publication Date
4-1-2005
Abstract
Electro-plating methods currently used to deposit Cu in through-wafer interconnect applications result in the formation of a thick Cu layer with large amounts of topographical variation. In this paper, alternative methods for thick Cu removal are investigated using a two-step slurry CMP approach.
Copyright Statement
This document was originally published by IEEE in IEEE Workshop on Microelectronics and Electron Devices, 2005. Copyright restrictions may apply. DOI: 10.1109/WMED.2005.1431630
Citation Information
Peter A. Miranda, Jerome A. Imonigie, Aaron L. Erbe and Amy J. Moll. "Novel Slurry Solutions for Thick Cu CMP"
IEEE Workshop on Microelectronics and Electron Devices, 2005
(2005)
Available at: http://works.bepress.com/amy_moll/4/