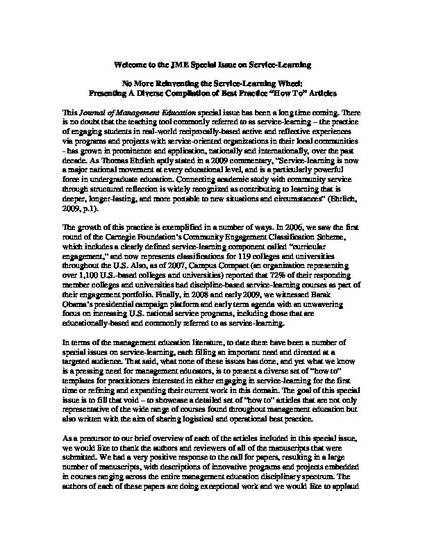 Article
No more reinventing the service-learning wheel: Presenting a diverse compilation of best practice "how to" articles
Journal of management education
Date of this Version
2-1-2010
Abstract
Extract: In terms of the management education literature, to date there have been a number of special issues on service-learning, each filling an important need and directed at a targeted audience. That said, what none of these issues has done, and yet what we know is a pressing need for management educators, is to present a diverse set of "how to" templates for practitioners interested in either engaging in service-learning for the first time or refining and expanding their current work in this domain. The goal of this special issue is to fill that void—to showcase a detailed set of "how to" articles that are not only representative of the wide range of courses found throughout management education but also written with the aim of sharing logistical and operational best practice.
Citation Information
Amy L. Kenworthy and Charles Fornaciari. "No more reinventing the service-learning wheel: Presenting a diverse compilation of best practice "how to" articles"
Journal of management education
Vol. 34 Iss. 1 (2010) p. 3 - 8
Available at: http://works.bepress.com/amy_kenworthy/13/