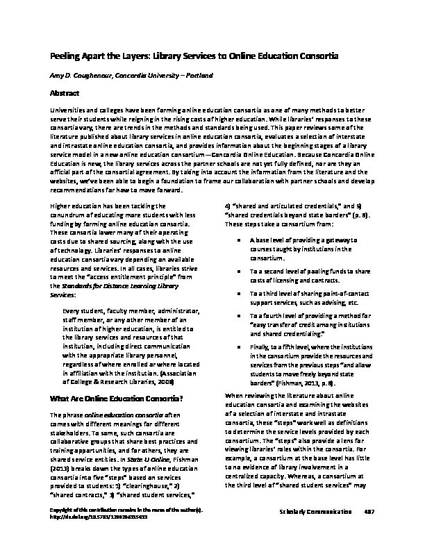 Article
Peeling Apart the Layers: Library Services to Online Education Consortia
Charleston Library Conference
Abstract
Universities and colleges have been forming online education consortia as one of many methods to better serve their students while reigning in the rising costs of higher education. While libraries' responses to these consortia vary, there are trends in the methods and standards being used. This paper reviews some of the literature published about library services in online education consortia, evaluates a selection of interstate and intrastate online education consortia, and provides information about the beginning stages of a library service model in a new online education consortium—Concordia Online Education. Because Concordia Online Education is new, the library services across the partner schools are not yet fully defined, nor are they an official part of the consortial agreement. By taking into account the information from the literature and the websites, we've been able to begin a foundation to frame our collaboration with partner schools and develop recommendations for how to move forward.
DOI
10.5703/1288284315633
Citation Information
Amy D. Coughenour. "Peeling Apart the Layers: Library Services to Online Education Consortia"
Available at: http://works.bepress.com/amy_coughenour/1/