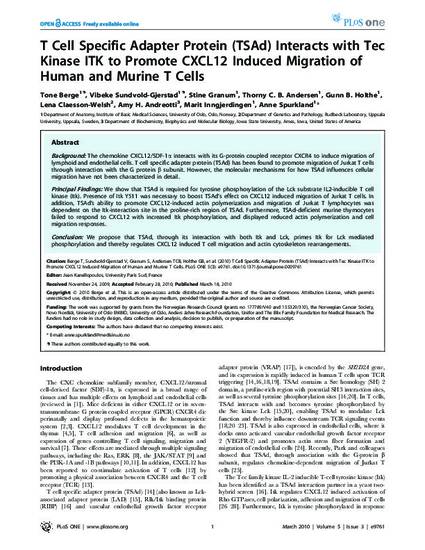 Article
T Cell Specific Adapter Protein (TSAd) Interacts with Tec Kinase ITK to Promote CXCL12 Induced Migration of Human and Murine T Cells
PLoS One
Publication Version
Published Version
Publication Date
3-1-2010
DOI
10.1371/journal.pone.0009761
Abstract
The chemokine CXCL12/SDF-1α interacts with its G-protein coupled receptor CXCR4 to induce migration of lymphoid and endothelial cells. T cell specific adapter protein (TSAd) has been found to promote migration of Jurkat T cells through interaction with the G protein β subunit. However, the molecular mechanisms for how TSAd influences cellular migration have not been characterized in detail. We show that TSAd is required for tyrosine phosphorylation of the Lck substrate IL2-inducible T cell kinase (Itk). Presence of Itk Y511 was necessary to boost TSAd's effect on CXCL12 induced migration of Jurkat T cells. In addition, TSAd's ability to promote CXCL12-induced actin polymerization and migration of Jurkat T lymphocytes was dependent on the Itk-interaction site in the proline-rich region of TSAd. Furthermore, TSAd-deficient murine thymocytes failed to respond to CXCL12 with increased Itk phosphorylation, and displayed reduced actin polymerization and cell migration responses. We propose that TSAd, through its interaction with both Itk and Lck, primes Itk for Lck mediated phosphorylation and thereby regulates CXCL12 induced T cell migration and actin cytoskeleton rearrangements.
Rights
This is an open-access article distributed under the terms of the Creative Commons Attribution License, which permits unrestricted use, distribution, and reproduction in any medium, provided the original author and source are credited.
Copyright Owner
Tone Berge, et al.
File Format
application/pdf
Citation Information
Tone Berge, Vibeke Sundvold-Gjerstad, Stine Granum, Thorny Cecilie Bie Andersen, et al.. "T Cell Specific Adapter Protein (TSAd) Interacts with Tec Kinase ITK to Promote CXCL12 Induced Migration of Human and Murine T Cells"
PLoS One
Vol. 5 Iss. 3 (2010) p. 1 - 10
Available at: http://works.bepress.com/amy_andreotti/8/