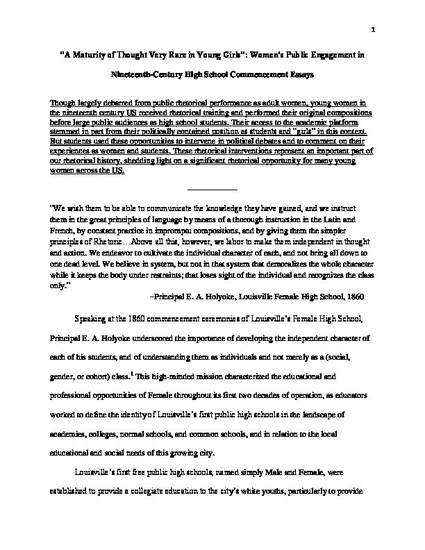 Article
"A Maturity of Thought Very Rare in Young Girls": Women's Public Engagement in Nineteenth-Century High School Commencement Essays
English
Publication Date
3-25-2015
Publisher
Taylor & Francis
Abstract
Though largely debarred from public rhetorical performance as adult women, young women in the nineteenth-century US received rhetorical training and performed their original compositions before large public audiences as high school students. Their access to the academic platform stemmed in part from their politically contained position as students and "girls" in this context. But students used these opportunities to intervene in political debates and to comment on their experiences as women and students. These rhetorical interventions represent an important part of our rhetorical history, shedding light on a significant rhetorical opportunity for many young women across the US.
Citation Information
Lueck, A. J. (2015). "A Maturity of Thought Very Rare in Young Girls": Women's Public Engagement in Nineteenth-Century High School Commencement Essays. Rhetoric Review, 34(2), 129–146.
https://doi.org/10.1080/07350198.2015.1008911