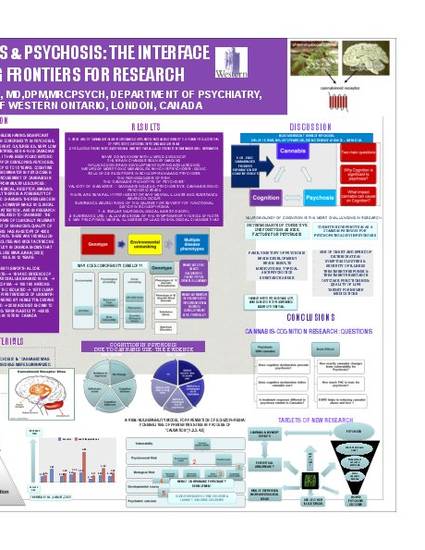 Presentation
Cannabis & Psychosis: The Interface Emerging Frontiers for Research
Psychiatry Presentations
Document Type
Presentation
Publication Date
10-20-2008
Abstract
INTRODUCTION: CANNABIS CONTINUES TO AFFECT MENTAL HEALTH. ITS ABUSE IS ON RISE GLOBALLY. IN CANADA A RISE BY 30% IN LAST TEN YEARS HAS BEEN OBSERVED IN HIGH SCHOOL STUDENTS. INTERRELATIONSHIP OF CANNABIS WITH PSYCHOSIS AND SCHIZOPHRENIA IS A COMPLEX ONE. CANNABIS IS HIGHLY COMORBID WITH PSYCHOSIS, & RELATED TO FUNCTIONAL DISABILITY AND OUTCOME. IT POSES SEVERAL CHALLENGES IN UNDERSTANDING CAUSAL RELATIONSHIP FOR COMORBIDITY, UNDERLYING NEUROCHEMICAL BASIS AND SPECIFICS OF SERVICE DEVELOPMENT. PREVALENCE OF CANNABIS VARIES FROM 20 TO 50% EARLY PSYCHOSIS. OBJECTIVE OF THIS PAPER IS TO REVIEW AVAILABLE LITERATURE TO IDENTIFY CHALLENGES FOR NEWER TARGETS OF RESEARCH AND PREVENTIVE MEASURES.
METHOD: RECENT LITERATURE FROM ELECTRONIC DATA BASE SEARCH IDENTIFIES ROLE AND RELATIONSHIP OF CANNABIS AND PSYCHOSIS.
RESULTS. CANNABIS IS A RISK FACTOR FOR BOTH PSYCHOSIS AND SCHIZOPHRENIA & APPEARS TO HAVE CAUSAL RELATIONSHIP FOR EARLY AND LATERAGE PSYCHOSIS. MOOD SYMPTOMS ARE ALSO SIGNIFICANT BUT LESS RECOGNIZED. UNDERSTANDINGS OF THE PROCESS AND CAUSES HAVE SIGNIFICANTLY ADVANCED WITH DISCOVERY OF CANNABINOID RECEPTORS AND ENDOGENOUS CANNABINOIDS. IT IS CLEAR THAT CANNABIS INCREASES BRAIN VULNERABILITY, CAUSES POORER OUTCOME AND MORE SIDE EFFECTS. CANNABIS CAUSES COGNITIVE DYSFUNCTION THAT PERHAPS WORKS AS A COMMON DENOMINATOR FOR THE RISK-VULNERABILITY. IT APPEARS TO HAVE INDEPENDENT GENETIC COMPONENT RELATED TO DISRUPTION IN NEUROTRANSMISSION AFFECTING NEURONAL PLASTICITY. MUCH LESS ATTENTION HAS BEEN PAID IN DEVELOPING SERVICES TARGETED TOWARDS HARM REDUCTION AND DEVELOPING THERAPEUTICS.
CONCLUSION. CANNABIS IS POTENTIAL RISK FACTOR FOR POORER OUTCOME IN PSYCHOSIS. NEW BIOLOGICAL AND SOCIAL SERVICE INITIATIVES WILL ADD VALUE TO EARLY PSYCHOSIS PROGRAMS.
Citation Information
Amresh Shrivastava. "Cannabis & Psychosis: The Interface Emerging Frontiers for Research" (2008)
Available at: http://works.bepress.com/amreshsrivastava/41/