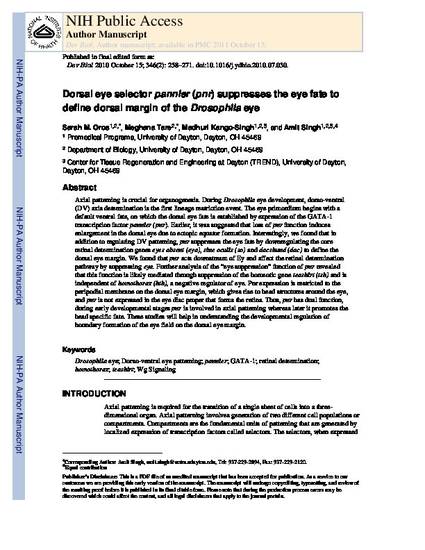 Article
Dorsal Eye Selector Pannier (pnr) Suppresses the Eye Fate to Define Dorsal Margin of the Drosophila Eye
Developmental Biology
Publication Date
10-1-2010
Abstract
Axial patterning is crucial for organogenesis. During Drosophila eye development, dorso-ventral (DV) axis determination is the first lineage restriction event. The eye primordium begins with a default ventral fate, on which the dorsal eye fate is established by expression of the GATA-1 transcription factor pannier (pnr). Earlier, it was suggested that loss of pnr function induces enlargement in the dorsal eye due to ectopic equator formation. Interestingly, we found that in addition to regulating DV patterning, pnr suppresses the eye fate by downregulating the core retinal determination genes eyes absent (eya), sine oculis (so) and dacshund (dac) to define the dorsal eye margin. We found that pnr acts downstream of Ey and affect the retinal determination pathway by suppressing eya. Further analysis of the "eye suppression" function of pnr revealed that this function is likely mediated through suppression of the homeotic gene teashirt (tsh) and is independent of homothorax (hth), a negative regulator of eye. Pnr expression is restricted to the peripodial membrane on the dorsal eye margin, which gives rise to head structures around the eye, and pnr is not expressed in the eye disc proper that forms the retina. Thus, pnr has dual function, during early developmental stages pnr is involved in axial patterning whereas later it promotes the head specific fate. These studies will help in understanding the developmental regulation of boundary formation of the eye field on the dorsal eye margin.
Document Version
Postprint
Copyright
Copyright © 2010, Elsevier.
Publisher
Society for Developmental Biology
Keywords
Drosophila eye,
Dorso-ventral eye patterning,
pannier,
GATA-1,
retinal determination,
homothorax,
teashirt,
Wg Signaling
Sponsoring Agency
National Institutes of Health
Citation Information
Sarah M. Oros, Meghana Tare, Madhuri Kango-Singh and Amit Singh. "Dorsal Eye Selector Pannier (pnr) Suppresses the Eye Fate to Define Dorsal Margin of the Drosophila Eye"
Developmental Biology
Vol. 346 Iss. 2 (2010)
Available at: http://works.bepress.com/amit_singh/9/