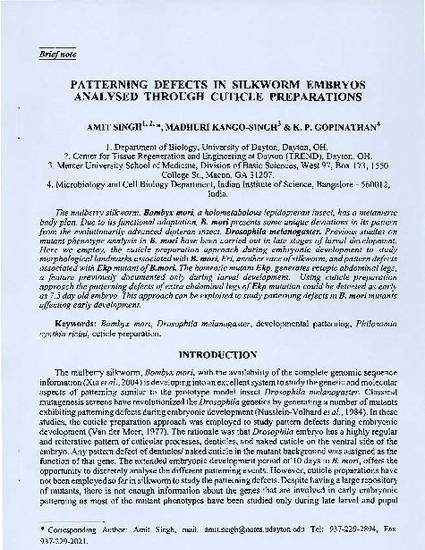 Article
Patterning Defects in Silkworm Embryos Analysed through Cuticle Preparations
Sericologia
Publication Date
1-1-2009
Abstract
The mulberry silkworm, Bombyx mori, a holometabolous lepidopteran insect, has a metameric body plan. Due to its functional adaptation, B. mori presents some unique deviations in its pal/ern from the evolutionarily advanced dipteran insect, Drosophila melanogaster. Previous studies on mutant phenotype analysis in B. mori have been carried out in late stages of larval development. Here we employ, the cuticle preparation approach during embryonic development to study morphological landmarks associated with B. mori, Eri, another race a/silkworm, and pattern defects associated with Ekp mutant of B.mori. The homeotic mutant Ekp, generates ectopic abdominallegs, a feature previously documented only during larval development. Using cuticle preparation approach the patterning defects of extra abdominal legs of Ekp mutation could be detected as early as 7.5-day-old embryo. This approach can be exploited to study patterning defects in B. mori mutants affecting early development.
Document Version
Published Version
Copyright
Copyright © 2009, International Sericultural Commission
Publisher
International Sericultural Commission
Citation Information
Amit Singh, Madhuri Kango-Singh and K. P. Gopinathan. "Patterning Defects in Silkworm Embryos Analysed through Cuticle Preparations"
Sericologia
Vol. 49 Iss. 1 (2009)
Available at: http://works.bepress.com/amit_singh/46/