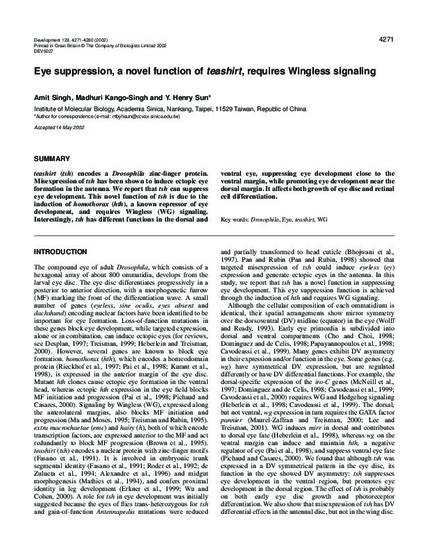 Article
Eye Suppression, A Novel Function of Teashirt, Requires Wingless Signaling
Development
Publication Date
9-1-2002
Abstract
Teashirt (tsh) encodes a Drosophila zinc-finger protein. Misexpression of tsh has been shown to induce ectopic eye formation in the antenna. We report that tsh can suppress eye development. This novel function of tsh is due to the induction of homothorax (hth), a known repressor of eye development, and requires Wingless (WG) signaling. Interestingly, tsh has different functions in the dorsal and ventral eye, suppressing eye development close to the ventral margin, while promoting eye development near the dorsal margin. It affects both growth of eye disc and retinal cell differentiation.
Inclusive pages
4271-4280
Document Version
Published Version
Copyright
Copyright © 2002, Company of Biologists
Publisher
Company of Biologists
Citation Information
Amit Singh, Madhuri Kango-Singh and Y. Henry Sun. "Eye Suppression, A Novel Function of Teashirt, Requires Wingless Signaling"
Development
Vol. 129 Iss. 18 (2002)
Available at: http://works.bepress.com/amit_singh/43/