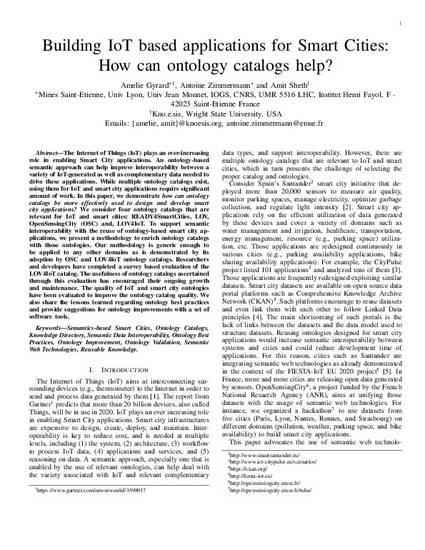 Article
Building IoT Based Applications for Smart Cities: How Can Ontology Catalogs Help?
IEEE Internet of Things Journal
Publication Date
10-1-2018
Abstract
The Internet of Things (IoT) plays an ever-increasing role in enabling smart city applications. An ontology-based semantic approach can help improve interoperability between a variety of IoT-generated as well as complementary data needed to drive these applications. While multiple ontology catalogs exist, using them for IoT and smart city applications require significant amount of work. In this paper, we demonstrate how can ontology catalogs be more effectively used to design and develop smart city applications? We consider four ontology catalogs that are relevant for IoT and smart cities: 1) READY4SmartCities; 2) linked open vocabulary (LOV); 3) OpenSensingCity (OSC); and 4) LOVs for IoT (LOV4IoT). To support semantic interoperability with the reuse of ontology-based smart city applications, we present a methodology to enrich ontology catalogs with those ontologies. Our methodology is generic enough to be applied to any other domains as is demonstrated by its adoption by OSC and LOV4IoT ontology catalogs. Researchers and developers have completed a survey-based evaluation of the LOV4IoT catalog. The usefulness of ontology catalogs ascertained through this evaluation has encouraged their ongoing growth and maintenance. The quality of IoT and smart city ontologies have been evaluated to improve the ontology catalog quality. We also share the lessons learned regarding ontology best practices and provide suggestions for ontology improvements with a set of software tools.
DOI
10.1109/JIOT.2018.2854278
Citation Information
Amelia Gyrard, Antoine Zimmermann and Amit P. Sheth. "Building IoT Based Applications for Smart Cities: How Can Ontology Catalogs Help?"
IEEE Internet of Things Journal
Vol. 5 Iss. 5 (2018) p. 3978 - 3990 ISSN: 2327-4662
Available at: http://works.bepress.com/amit_sheth/568/