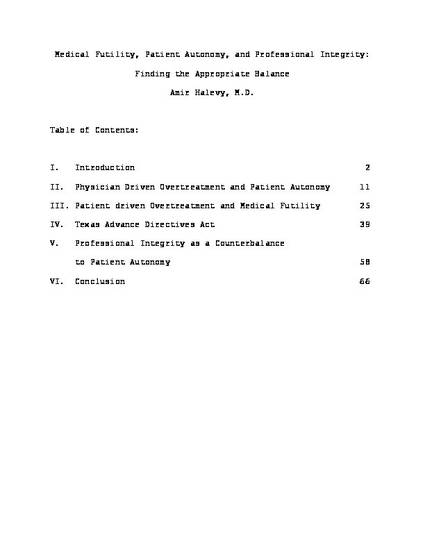 Unpublished Paper
Medical Futility, Patient Autonomy, and Professional Integrity: Finding the Appropriate Balance
ExpressO (2007)
Abstract
This article focuses on the "medical futility" section of the Texas Advance Directives Act. Briefly, the concept of medical futility is that under certain circumstances, physicians and health care institutions have no legal or moral duty to provide medically inappropriate or futile treatment even when demanded by patients or their families. Given the ongoing national debate about health care costs and access to care issues, this subject is integral to any potential resolution. The Texas futility mechanism initially received national attention as a model statute that created a process-based resolution mechanism to resolve these complex cases. More recently, however, the futility mechanism received national attention during the Terri Schiavo debacle and is currently being debated in Austin as a result of several difficult public cases. Several potential amendments to the Act are being considered and whatever happens during this legislative session will be of importance not only to Texas but to health policy across the country. The article argues that the "integrity of the medical profession", a concept recognized by various courts for over a generation as a counter-balance to patient autonomy, is the appropriate legal and moral counterweight to patient and surrogate decision-maker demands for medically inappropriate therapy.
Publication Date
April, 2007
Citation Information
Amir Halevy. "Medical Futility, Patient Autonomy, and Professional Integrity: Finding the Appropriate Balance"
ExpressO
(2007)
Available at: http://works.bepress.com/amir_halevy/1/