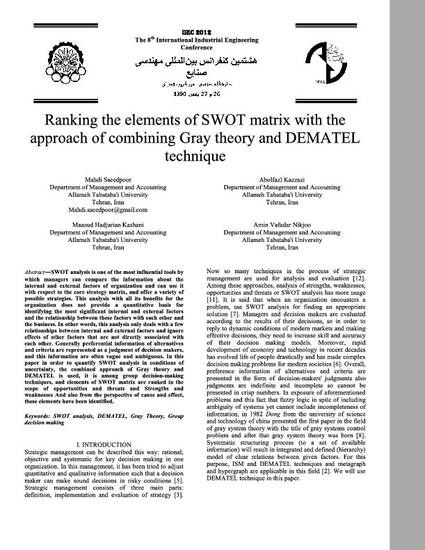 Presentation
Ranking the elements of SWOT matrix with the approach of combining Gray theory and DEMATEL technique
8th International Industrial Engineering Conference (IIEC) (2012)
Abstract
SWOT analysis is one of the most influential tools by which managers can compare the information about the internal and external factors of organization and can use it with respect to the core strategy matrix, and offer a variety of possible strategies. This analysis with all its benefits for the organization does not provide a quantitative basis for identifying the most significant internal and external factors and the relationship between these factors with each other and the business. In other words, this analysis only deals with a few relationships between internal and external factors and ignore effects of other factors that are not directly associated with each other. Generally preferential information of alternatives and criteria are represented as a judgment of decision makers, and this information are often vague and ambiguous. In this paper in order to quantify SWOT analysis in conditions of uncertainty, the combined approach of Gray theory and DEMATEL is used, it is among group decision-making techniques, and elements of SWOT matrix are ranked in the scope of opportunities and threats and strengths and weaknesses and also from the perspective of cause and effect, these elements have been identified.
Keywords
SWOT analysis,
DEMATEL,
Gray theory,
Group decision making
Publication Date
Winter February 15, 2012
Citation Information
Mahdi Saeedpoor, Abolfazl Kazzazi, Masoud Hadjarian Kashani and Amin Vafadar Nikjoo. "Ranking the elements of SWOT matrix with the approach of combining Gray theory and DEMATEL technique"
8th International Industrial Engineering Conference (IIEC)
(2012)
Available at: http://works.bepress.com/amin_vafadarnikjoo/1/