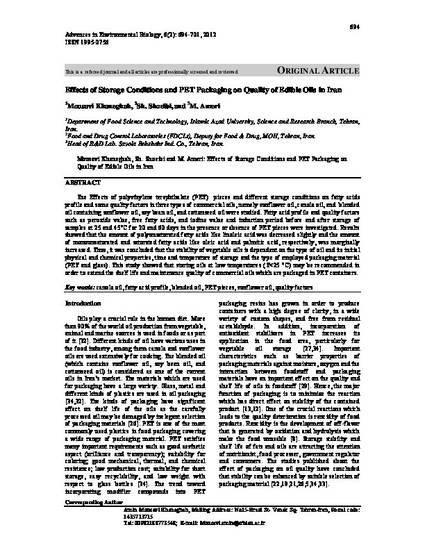 Article
Effects of Storage Conditions and PET Packaging on Quality of Edible Oils in Iran
Advances in Environmental Biology (2012)
Abstract
The Effects of polyethylene terephthalate (PET) pieces and different storage conditions on fatty acids profile and some quality factors in three types of commercial oils, namely sunflower oil, canola oil, and blended oil containing sunflower oil, soy bean oil, and cottonseed oil were studied. Fatty acid profile and quality factors such as peroxide value, free fatty acids, and iodine value and induction period before and after storage of samples at 25 and 45°C for 20 and 60 days in the presence or absence of PET pieces were investigated. Results showed that the amount of polyunsaturated fatty acids like linoleic acid was decreased slightly and the amount of monounsaturated and saturated fatty acids like oleic acid and palmitic acid, respectively, was marginally increased. Thus, it was concluded that the stability of vegetable oils is dependent on the type of oil and its initial physical and chemical properties, time and temperature of storage and the type of employed packaging material (PET and glass). This study showed that storing oils at low temperatures (T<25 °C) may be recommended in order to extend the shelf life and maintenance quality of commercial oils which are packaged in PET containers.
Keywords
canola oil,
fatty acid profile,
blended oil,
PET pieces,
sunflower oil,
quality factors
Publication Date
Spring March 2, 2012
Citation Information
Amin Mousavi Khaneghah, Shahram Shoeibi and Majid Americ. "Effects of Storage Conditions and PET Packaging on Quality of Edible Oils in Iran"
Advances in Environmental Biology
Vol. 6 Iss. 2 (2012)
Available at: http://works.bepress.com/amin_mousavikhaneghah/2/