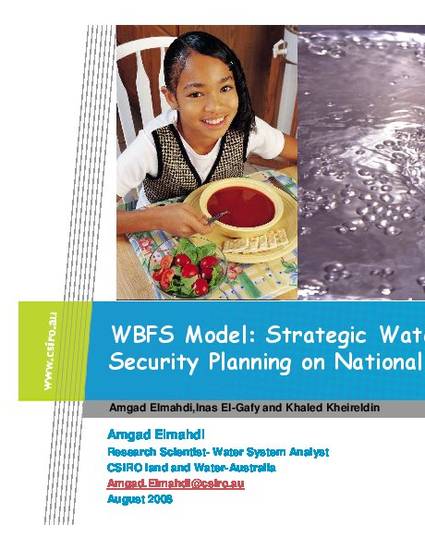 Presentation
WBFS Model: Strategic Water and Food Security Planning on National Wide Level
IGU-2008 Water sustainability commission (2008)
Abstract
Global warming has impacted the four dimensions of the food security problem, namely: availability (including production and trade); stability of supply (dependent on available water); accessibility; and utility. The food-water security system is diverse in size, in character, and in time. Moreover, the food-water security system management is complex due to the uncontrolled nature of the climate change variables, and because the assessment of the efficacy of management decisions is difficult due to the complexity and interconnectivity of water systems components (environment, physical, agricultural and socio-economic). Further complexity is added where natural resource management (NRM) is decentralised and a catchment or region is covered by several management bodies.
Essentially most of the quantitative assessments in the previous studies show that climate change has adversely affected food security. Climate change will increase the dependency of developing countries on imports and accentuate existing focus of food insecurity on many countries around the world. Also, previous assessments show that the socio-economic environment is more important than the impacts that can be predicted from the biophysical changes of climate change. Accordingly, this study aims at introducing an integrated system model for food and water security management system for Egypt case study. The framework is designed in more flexible fashion using a simple graphical user interface through VENSIM platform to allow the decision makers to have the ability of selecting several policy making variables and change them over the assigned planning time horizon. The model is able to simulate different scenarios and alternatives for different time horizon. The developed integrated framework shows robustness in dealing with such complicated issues and allows the decision maker to have a reliable vision for the future situation regarding water and food security.
Keywords
Water security,
food security,
water balance,
sustainability strategy
Citation Information
Amgad ELMAHDI. "WBFS Model: Strategic Water and Food Security Planning on National Wide Level"
IGU-2008 Water sustainability commission
(2008)
Available at: http://works.bepress.com/amgad_elmahdi/24/