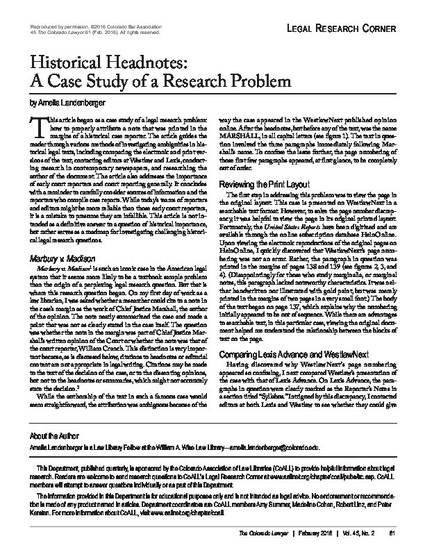 Article
Historical Headnotes: A Case Study of a Research Problem
The Colorado Lawyer
Abstract
This article began as a case study of a legal research problem: how to properly attribute a note that was printed in the margins of a historical case reporter. The article guides the reader through various methods of investigating ambiguities in historical legal texts, including comparing the electronic and print versions of the text, contacting editors at Westlaw and Lexis, conducting research in contemporary newspapers, and researching the author of the document. The article also addresses the importance of early court reporters and court reporting generally. It concludes with a reminder to carefully consider sources of information and the reporters who compile case reports. While today's teams of reporters and editors might be more reliable than those early court reporters, it is a mistake to presume they are infallible. This article is not intended as a definitive answer to a question of historical importance, but rather serves as a roadmap for investigating challenging historical legal research questions.
Publication Date
2-1-2016
Citation Information
Amelia Landenberger. "Historical Headnotes: A Case Study of a Research Problem"
The Colorado Lawyer
Vol. 45 (2016) p. 61 - 64
Available at: http://works.bepress.com/amelia_landenberger/1/