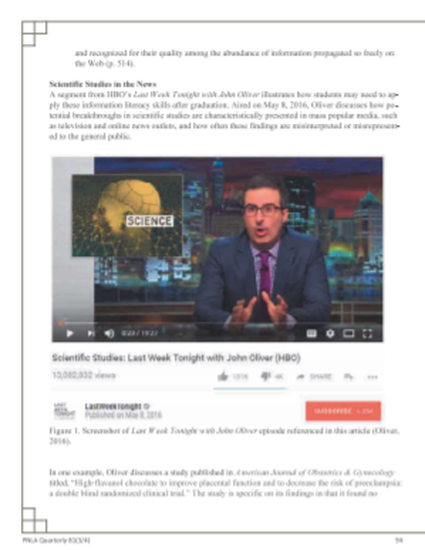 Article
Media Misrepresentation of Academic Literature and Barriers to Verify Sources for Those Outside of Higher Education: An Example from Last Week Tonight with John Oliver
PNLA Quarterly
Publication Date
1-1-2018
Abstract
Academic librarians teach students to research using academic databases and peer-reviewed articles. Information literacy skills combat misinformation in a student's academic career and beyond the classroom. However, once students leave campus and cross the border from student life to working life, they may not have access to peer-reviewed literature. Using a popular segment of Last Week Tonight with John Oliver about scientific studies, this article presents the importance of, and barriers to, students' continued access to peer-reviewed research. How librarians might mitigate these obstacles are discussed.
Creative Commons License
Creative Commons Attribution-Noncommercial 4.0
Citation Information
Memo Cordova and Amber Sherman. "Media Misrepresentation of Academic Literature and Barriers to Verify Sources for Those Outside of Higher Education: An Example from Last Week Tonight with John Oliver"
PNLA Quarterly
(2018)
Available at: http://works.bepress.com/amber_sherman/22/