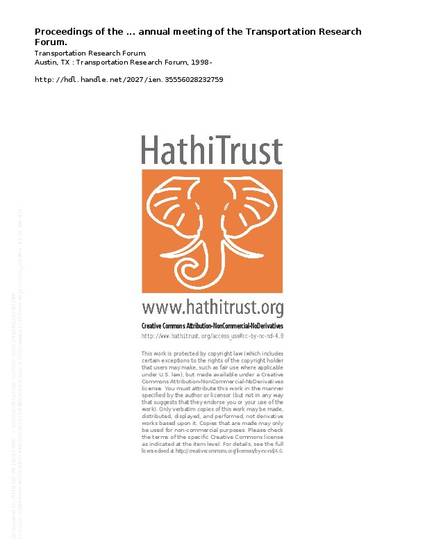 Other
Linking Transport Infrastructure Investments and Economic Development in Sub-Saharan Africa
39th Annual Forum of the Transportation Research Forum
Document Type
Conference Proceeding
Publication Date
10-1-1997
Abstract
The study explores the link between investments in transportation infrastructure, operationalized in terms of road density, and economic development, defined in terms of gross domestic product per capita (GDP/Cap), in sub-Saharan Africa (SSA). The findings support the hypothesis of a positive association between the two variables. The association is stronger for paved, than for all, roads in general. Furthermore, a negative but statistically insignificant relationship is observed between unpaved roads and economic development. Thus, economic development is a function more of quality, than quantity of roads in SSA. Therefore, a more judicious use of the scarce resource of sub-Saharan African countries in particular and developing countries in general will entail seeking to improve the quality of the existing inventory of roads as opposed to developing new ones. The goal should, ideally, be to ensure that existing roads are usable all year-round.
Rights Information
Creative Commons Attribution-Noncommercial-No Derivative Works 4.0
Citation Information
Ambe J. Njoh. "Linking Transport Infrastructure Investments and Economic Development in Sub-Saharan Africa"
39th Annual Forum of the Transportation Research Forum
(1997) p. 678 - 701
Available at: http://works.bepress.com/ambe-njoh/13/