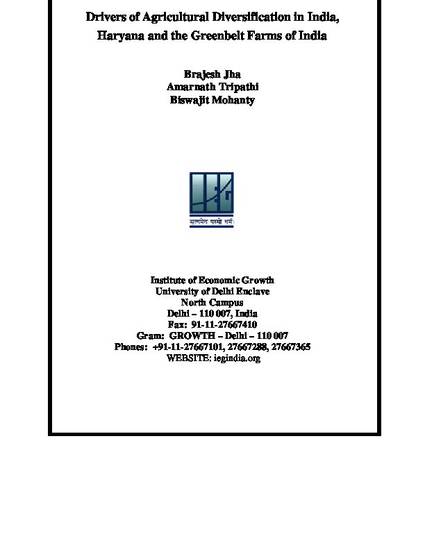 Article
Drivers of Agricultural Diversification in India, Haryana, and the Greenbelt Farms of India
Working Paper Series No. 303, Institute of Economic Growth, Delhi (2009)
Abstract
The present study discusses factors responsible for agricultural diversification at different levels: country (India), state (Haryana) and farms of Kurukshetra district in Haryana. The study regressed alternate measures of diversification namely, the Simpson index and concentration of non-food crops, on several possible factors such as income, land distribution, irrigation intensity, institutional credit, road density, urbanization and market penetration. The regression analysis suggests that increased road density, urbanization encourages commercialization of agriculture and with commercialization, farms in a region are increasingly specialized under certain crops and crop-groups as per the resource, infrastructure and institutions of the region.
Publication Date
Fall December, 2009
Citation Information
amarnath tripathi and Brajesh Jha. "Drivers of Agricultural Diversification in India, Haryana, and the Greenbelt Farms of India"
Working Paper Series No. 303, Institute of Economic Growth, Delhi
Vol. 2009 Iss. 303 (2009)
Available at: http://works.bepress.com/amarnath_tripathi/6/