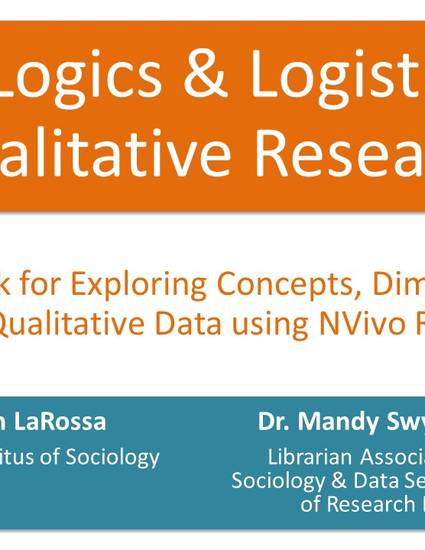 Presentation
The Logics and Logistics of Qualitative Research: A Framework for Exploring Concepts, Dimensions, and Relationships in Qualitative Data using NVivo Research Software
Georgia State University (2020)
Abstract
In this presentation, Dr. Ralph LaRossa, Professor Emeritus of Sociology, and Dr. Mandy Swygart-Hobaugh, Librarian Associate Professor for Sociology, Gerontology, & Data Services, presented both the theoretical-methodological "logics" and the applied-methodological "logistics" of conducting qualitative data analysis (i.e., non-statistical analysis of textual, audio, visual, and/or audiovisual sources). Dr. LaRossa discussed the steps involved in building theoretically-rich qualitative analyses. Dr. Swygart-Hobaugh outlined the specific features of NVivo qualitative research software that complement and facilitate these analyses.
The presentation is best viewed using the PowerPoint Slide Show mode, as many of the individual slides have animation effects.
NOTE: Dr. LaRossa's slides are not included in this web-posted version – please refer to the following articles for the content relevant to his portion of the presentation:
LaRossa, R. (2012). Writing and reviewing manuscripts in the multidimensional world of qualitative research. Journal of Marriage and Family, 74(4), 643-659.
LaRossa, R. (2012). Thinking about the nature and scope of qualitative research. Journal of Marriage and Family, 74(4), 678-687.
LaRossa, R. (2005). Grounded theory methods and qualitative family research. Journal of Marriage and Family, 67(4), 837-857.
SEE ALSO:
Publication Date
October 1, 2020
Citation Information
LaRossa, R., & Swygart-Hobaugh, M. (2015, March 11; 2015, October 21; 2016, October 19; 2017, October 11; 2018, October 10; 2019, October 2; 2020, October 1). The logics and logistics of qualitative research: A framework for exploring concepts, dimensions, and relationships in qualitative data using NVivo research software," Presentation at Georgia State University, Atlanta, GA.
Creative Commons License
This work is licensed under a Creative Commons CC_BY-SA International License.