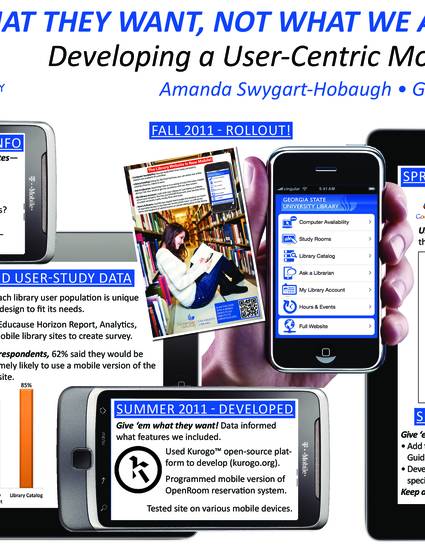 Unpublished Paper
Give Them What They Want, Not What We Assume They Need: Developing a User-Centric Mobile Library Website
Poster presented at American Library Association (ALA) Annual Conference (2012)
Abstract
Learn about the user studies Georgia State University Library conducted to guide the included features on its library's mobile website, and gain tips for engaging in user-centric design of your own mobile site. Poster presentation included data used to inform the mobile site content (drawn from a user survey of undergraduates, graduates, and faculty on the desired features for a mobile library site as well as Google analytics), graphical shots of the mobile site, marketing of the mobile site, and post-development user study data to inform any redesign/adaptations of the mobile site.
Publication Date
June 23, 2012
Citation Information
Swygart-Hobaugh, A. J. (2012, June 23). Give them what they want, not what we assume they need: Developing a user-centric mobile library website. Poster session presented at the
American Library Association Annual Conference,
Anaheim, CA, 2012.