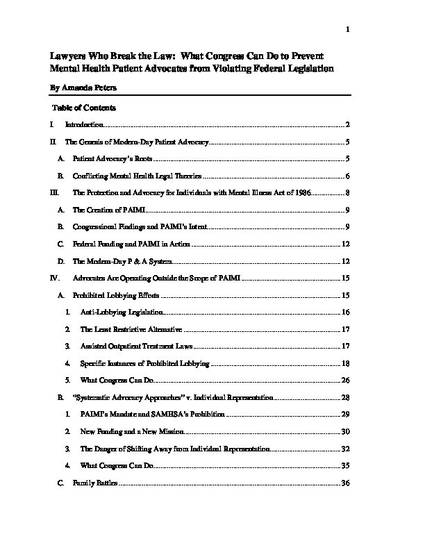 Unpublished Paper
Lawyers Who Break the Law: What Congress Can Do to Prevent Mental Health Patient Advocates from Violating Federal Legislation
ExpressO (2010)
Abstract
In 1986, Congress enacted the Protection and Advocacy for Individuals with Mental Illness Act (PAIMI). PAIMI created a national, federally-funded system of patient advocacy for individuals with mental illness. Patient advocates are lawyers who are charged with protecting individuals who have mental illness from abuse, neglect, and civil rights violations. Congress will review and revise PAIMI in 2011.
Over the past twenty-four years, advocates have saved countless individuals from abuse and death. However, numerous federal Department of Justice investigations reveal that patient advocates are not always carrying out their PAIMI responsibilities. Instead, patient advocates frequently engage in activities that are prohibited or unauthorized under federal law. These activities have placed their clients in peril and have taken them away from their federally-mandated mission.
This article examines how patient advocates have engaged in federally prohibited lobbying efforts and how they have tried to defeat proposed legislation, some of which would actually benefit their clients. It also explores their shift away from individual representation, which has placed more individuals with mental illness at risk. And it reveals their hostile attitude towards the families of those with mental illness, an attitude that is in direct conflict to the intent and purpose of PAIMI. Finally, it addresses the problems with each of these activities and it offers solutions that Congress can incorporate in the Act when it is revised next year.
Publication Date
March 8, 2010
Citation Information
Amanda J Peters. "Lawyers Who Break the Law: What Congress Can Do to Prevent Mental Health Patient Advocates from Violating Federal Legislation"
ExpressO
(2010)
Available at: http://works.bepress.com/amanda_peters/2/