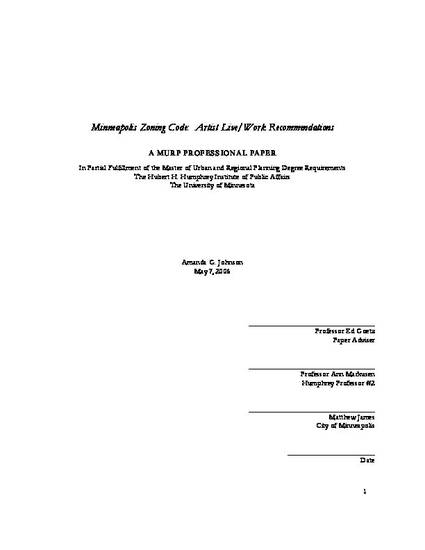 Unpublished Paper
Minneapolis Zoning Code: Artist Live/Work Recommendations
Master of Urban and Regional Planning Professional Paper, Humphrey Institute of Public Affairs, University of Minnesota (2006)
Abstract
In June 2005, the City of Minneapolis approved the Minneapolis Plan for Arts & Culture, led by the direction of the Minneapolis Arts Commission. It is a ten year strategic plan that "defines the role of the City of Minneapolis in supporting arts and culture, and the role of arts and culture in accomplishing the City's broader goals." The City of Minneapolis, in the Planning Division of the Department of Community Planning and Economic Development (CPED), is undertaking a study of other cities' practices to provide assistance to artists in different forms, through regulations and provision of assistance, services, and resources. Of particular interest will be a comparison of the zoning and regulatory solutions used in other cities to allow this type of activity. Per your request, I study Minneapolis Zoning code and identify regulations relative to live/work situations. Then, I research zoning codes in artist friendly cities designated by the Minneapolis Plan for Art & Culture like Boston, Chicago, Portland, Seattle, and Saint Paul. Finally, I recommend changes to the Minneapolis Zoning Code to promote live/work opportunities.
Publication Date
May, 2006
Citation Information
Amanda G. Johnson. "Minneapolis Zoning Code: Artist Live/Work Recommendations"
Master of Urban and Regional Planning Professional Paper, Humphrey Institute of Public Affairs, University of Minnesota
(2006)
Available at: http://works.bepress.com/amanda_johnson1/16/