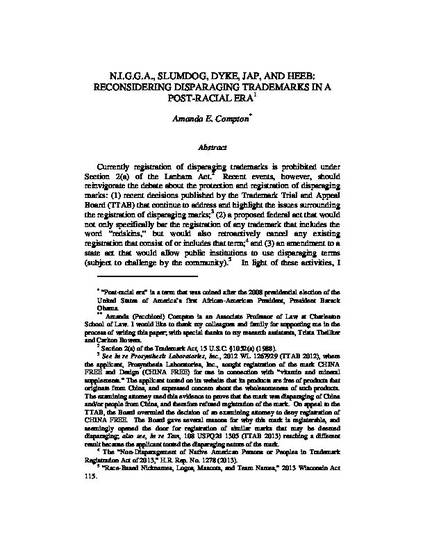 Article
N.I.G.G.A., SLUMDOG, DYKE, JAP, AND HEEB: RECONSIDERING DISPARAGING TRADEMARKS IN A POST-RACIAL ERA
Not Applicable (2014)
Abstract
Currently registration of disparaging trademarks is prohibited under Section 2(a) of the Lanham Act. Recent events, however, should reinvigorate the debate about the protection and registration of disparaging marks: (1) recent decisions published by the Trademark Trial and Appeal Board (TTAB) that continue to address and highlight the issues surrounding the registration of disparaging marks; (2) a proposed federal act that would not only specifically bar the registration of any trademark that includes the word "redskins," but would also retroactively cancel any existing registration that consist of or includes that term; and (3) an amendment to a state act that would allow public institutions to use disparaging terms (subject to challenge by the community). In light of these activities, I have written this article, which considers the viability of the federal registration of disparaging marks. I posit that the registration of such marks should be allowed for a variety of reasons. First, it is not in-line with the original goals of the U.S. Trademark Act of 1946, also commonly known as the Lanham Act. For example, trademark law seeks to protect consumers- it is the mind of the consumer that we are most concerned about when deciding likelihood of confusion or counterfeit cases. This goal has been improperly extended to justify the denial of disparaging trademarks. Furthermore, if consumers have socially accepted and adopted the use of such terms, then trademark owners should be allowed to adopt these terms to promote its goods or services to those consumers. Second, and along the same lines, the country has recently experienced a shift in the social climate. During the past few years we have elected (and re-elected) our first African-American president; we had our first viable female Democratic Presidential nominee; and, the military's "Don't Ask Don't Tell" policy has been repealed. It has been said we now live in a post-racial America: an era that has magically erased racism, and perhaps sexism and homophobia. Let's be clear, however: the dream of living in a "post-racial" United States of America has been a dream deferred. Still, in the spirit of this post-racial era where race, among other things, should no longer be a "hot-button" issue, registration of disparaging trademarks should be allowed. Finally, the law surrounding disparaging trademarks is unclear, scant, and where applied, has been applied in an inconsistent manner. Clearer guidelines must be set, or this portion of the Trademark Act repealed. Without such guidelines, Congress may be compelled to continue to present amendment after amendment for each term it deems to be repugnant. Part I of this article will explore the history of these types of marks, consider the standards for trademark registration, and explore the purpose behind Section 2(a) of the Lanham Act. In Part II, I will examine specific disparaging trademarks and show the lack of uniformity in rejecting registration of these marks. Finally, in Part III, I will explain the benefits and drawbacks of prohibiting registration of disparaging trademarks, and propose three options for reform in this area of the law.
Keywords
trademarks,
disparaging,
HR 1278,
redskins
Citation Information
Amanda E. Compton. "N.I.G.G.A., SLUMDOG, DYKE, JAP, AND HEEB: RECONSIDERING DISPARAGING TRADEMARKS IN A POST-RACIAL ERA"
Not Applicable
(2014)
Available at: http://works.bepress.com/amanda_compton1/9/