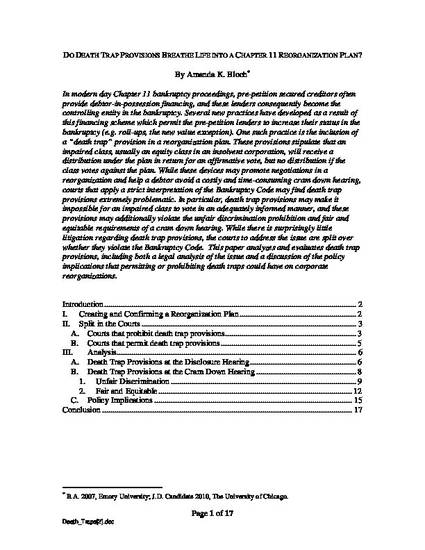 Article
Do Death Trap Provisions Breathe Life into a Chapter 11 Reorganization Plan?
The Journal of Applied Economy (2009)
Abstract
In modern day Chapter 11 bankruptcy proceedings, pre-petition secured creditors often provide debtor-in-possession financing, and these lenders consequently become the controlling entity in the bankruptcy. Several new practices have developed as a result of this financing scheme which permit the pre-petition lenders to increase their status in the bankruptcy (e.g. roll-ups, the new value exception). One such practice is the inclusion of a "death trap" provision in a reorganization plan. These provisions stipulate that an impaired class, usually an equity class in an insolvent corporation, will receive a distribution under the plan in return for an affirmative vote, but no distribution if the class votes against the plan. While these devices may promote negotiations in a reorganization and help a debtor avoid a costly and time-consuming cram down hearing, courts that apply a strict interpretation of the Bankruptcy Code may find death trap provisions extremely problematic. In particular, death trap provisions may make it impossible for an impaired class to vote in an adequately informed manner, and these provisions may additionally violate the unfair discrimination prohibition and fair and equitable requirements of a cram down hearing. While there is surprisingly little litigation regarding death trap provisions, the courts to address the issue are split over whether they violate the Bankruptcy Code. This paper analyzes and evaluates death trap provisions, including both a legal analysis of the issue and a discussion of the policy implications that permitting or prohibiting death traps could have on corporate reorganizations.
Publication Date
Fall October, 2009
Citation Information
Amanda K. Bloch. "Do Death Trap Provisions Breathe Life into a Chapter 11 Reorganization Plan?"
The Journal of Applied Economy
Vol. 2 (2009)
Available at: http://works.bepress.com/amanda_bloch/1/