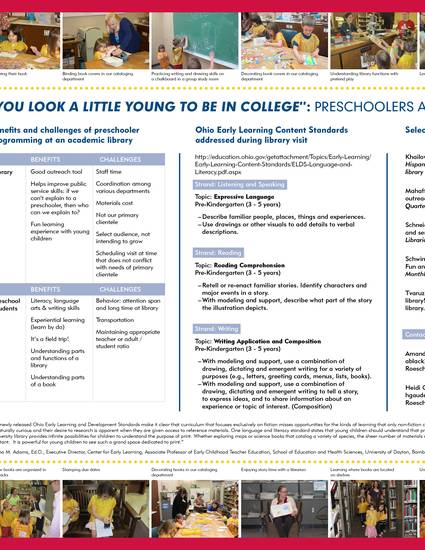 Article
"You look a little young to be in college": Preschoolers and academic libraries
ALAO 39th Annual Conference
Presentation Date
10-25-2013
Conference Sponsor
Academic Library Association of Ohio
Conference Location
North Canton, OH
Abstract
Learn how one academic library facilitates learning at the pre-school level through targeted programming opportunities. Working with preschool teachers, this library developed age-appropriate activities for children to experience an academic library environment. The Ohio Early Learning and Development Standards were utilized in describing the learning outcomes associated with the activities. This poster will show how academic libraries can provide outreach to the community with fun learning experiences for the youngest of users.
Citation Information
Amanda Black and Heidi Gauder. ""You look a little young to be in college": Preschoolers and academic libraries"
ALAO 39th Annual Conference
(2013)
Available at: http://works.bepress.com/amanda_black/1/