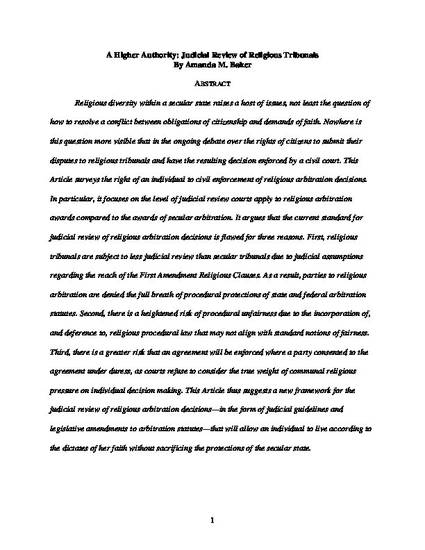 Unpublished Paper
A Higher Authority: Judicial Review of Religious Tribunals
ExpressO (2012)
Abstract
Religious diversity within a secular state raises a host of issues, not least the question of how to resolve a conflict between obligations of citizenship and demands of faith. Nowhere is this question more visible that in the ongoing debate over the rights of citizens to submit their disputes to religious tribunals and have the resulting decision enforced by a civil court. This Article surveys the right of an individual to civil enforcement of religious arbitration decisions. In particular, it focuses on the level of judicial review courts apply to religious arbitration awards compared to the awards of secular arbitration. It argues that the current standard for judicial review of religious arbitration decisions is flawed for three reasons. First, religious tribunals are subject to less judicial review than secular tribunals due to judicial assumptions regarding the reach of the First Amendment Religious Clauses. As a result, parties to religious arbitration are denied the full breath of procedural protections of state and federal arbitration statutes. Second, there is a heightened risk of procedural unfairness due to the incorporation of, and deference to, religious procedural law that may not align with standard notions of fairness. Third, there is a greater risk that an agreement will be enforced where a party consented to the agreement under duress, as courts refuse to consider the true weight of communal religious pressure on individual decision making. This Article thus suggests a new framework for the judicial review of religious arbitration decisions—in the form of judicial guidelines and legislative amendments to arbitration statutes—that will allow an individual to live according to the dictates of her faith without sacrificing the protections of the secular state.
Publication Date
April 5, 2012
Citation Information
Amanda M Baker. "A Higher Authority: Judicial Review of Religious Tribunals"
ExpressO
(2012)
Available at: http://works.bepress.com/amanda_baker/1/