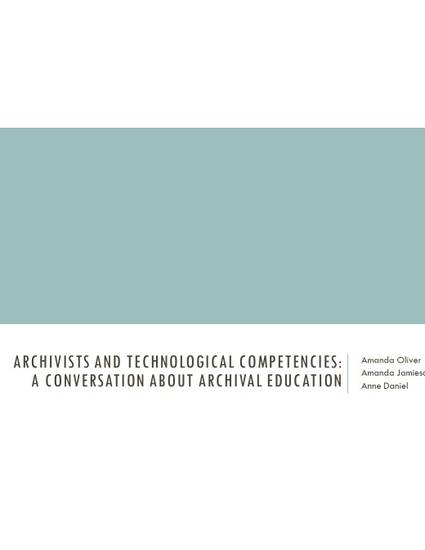 Presentation
Archivists and Technological Competencies: A Conversation about Archival Education
Association of Canadian Archivists (2018)
Abstract
Archivists are working in a rapidly changing environment and it can be challenging to be aware of and proficient with current and emerging technologies. Donors, researchers, and other stakeholders have an expectation that archivists are able to manage and provide access to records in all formats. It is imperative that archivists develop technical competencies in order to engage with records, record systems, and stakeholders. An examination of the current Canadian landscape will allow us to have an effective discussion about technical competencies and identify any strengths, weakness, opportunities, and threats to developing these skills. Building on previous research, this session will present the results of a content analysis of job postings, graduate-level course descriptions, and professional development course descriptions. The objective of this session is to discuss what technical competencies are expected of archivists and the role that they play in archival education and professional practice.  
Publication Date
Spring June 9, 2018
Location
Edmonton, Alberta
Citation Information
Anne Daniel, Amanda Jamieson and Amanda Oliver. "Archivists and Technological Competencies: A Conversation about Archival Education"
Association of Canadian Archivists
(2018)
Available at: http://works.bepress.com/amanda-oliver/3/