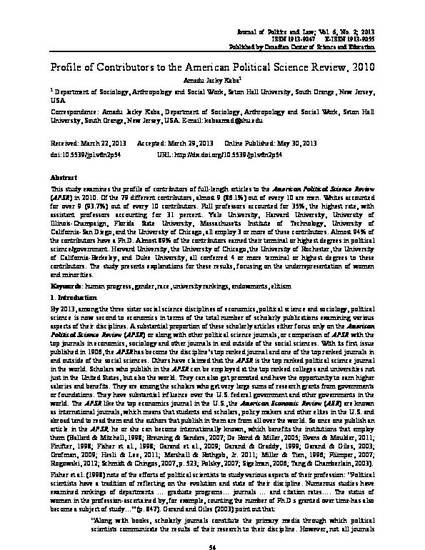 Article
Profile of Contributors to the American Political Science Review, 2010
Journal of Politics and Law (2013)
Abstract
This study examines the profile of contributors of full-length articles to the American Political Science Review (APSR) in 2010. Of the 79 different contributors, almost 9 (86.1%) out of every 10 are men. Whites accounted for over 9 (93.7%) out of every 10 contributors. Full professors accounted for 35%, the highest rate, with assistant professors accounting for 31 percent. Yale University, Harvard University, University of Illinois-[Urbana] Champaign, Florida State University, Massachusetts Institute of Technology, University of California-San Diego, and the University of Chicago, all employ 3 or more of these contributors. Almost 94% of the contributors have a Ph.D. Almost 89% of the contributors earned their terminal or highest degrees in political science/government. Harvard University, the University of Chicago, the University of Rochester, the University of California-Berkeley, and Duke University, all conferred 4 or more terminal or highest degrees to these contributors. The study presents explanations for these results, focusing on the underrepresentation of women and minorities.
Citation Information
Amadu Jacky Kaba. "Profile of Contributors to the American Political Science Review, 2010"
Journal of Politics and Law
Vol. 6 Iss. 2 (2013)
Available at: http://works.bepress.com/amadu_kaba/51/