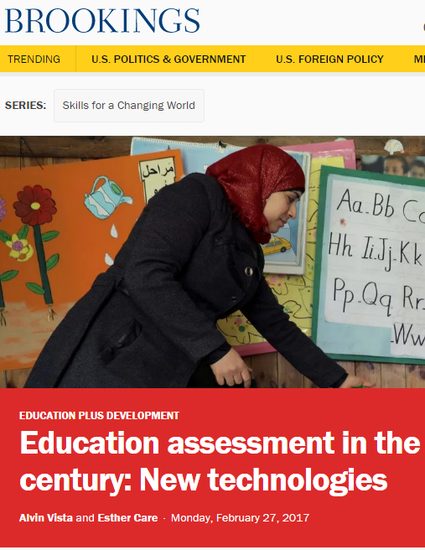 Article
Education assessment in the 21st century: New technologies
Education Plus Development (Brookings) (2017)
Abstract
The correct-incorrect dichotomy used in assessment is not always useful or sufficient. It may be useful when we are addressing fact-based issues, but not when we are interested in capturing nuances or processes. Accordingly, there have been attempts to move beyond this absolutist approach. In 1984, Frederiksen argued that multiple choice question (MCQ) formats measure only a subset of relevant skillsets and voiced concerns that overuse of the format can result in the teaching of a narrow set of skills. Technology can be used to augment and enhance the measures of conventional core skills. Technology can also augment the data to understand students' problem-solving processes by capturing task actions in addition to the usual test responses.
Keywords
Student assessment,
Educational technology,
Computer assisted testing
Publication Date
February 27, 2017
Citation Information
Alvin Vista and Esther Care. "Education assessment in the 21st century: New technologies"
Education Plus Development (Brookings)
(2017)
Available at: http://works.bepress.com/alvin-vista/17/