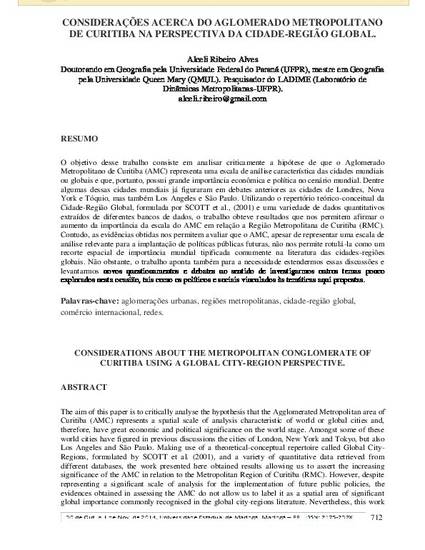 Article
Considerações acerca do Aglomerado Metropolitano de Curitiba na perspectiva da Cidade-Região Global
VII SIMPGEO (SIMPÓSIO PARANAENSE DE PÓS-GRADUAÇÃO EM GEOGRAFIA) (2014)
Abstract
The aim of this paper is to critically analyse the hypothesis that the Agglomerated Metropolitan area of Curitiba (AMC) represents a spatial scale of analysis characteristic of world or global cities and, therefore, have great economic and political significance on the world stage. Amongst some of these world cities have figured in previous discussions the cities of London, New York and Tokyo, but also Los Angeles and São Paulo. Making use of a theoretical-conceptual repertoire called Global City- Regions, formulated by SCOTT et al. (2001), and a variety of quantitative data retrieved from different databases, the work presented here obtained results allowing us to assert the increasing significance of the AMC in relation to the Metropolitan Region of Curitiba (RMC). However, despite representing a significant scale of analysis for the implementation of future public policies, the evidences obtained in assessing the AMC do not allow us to label it as a spatial area of significant global importance commonly recognised in the global city-regions literature. Nevertheless, this work also points to the need to extend these discussions and raise new questions and debates in order to investigate other topics that have not been explored on this occasion, such as political and social issues related to themes proposed here.
Keywords
urban agglomerations,
metropolitan regions,
global city-regions,
international trade,
networks.
Publication Date
Spring October 30, 2014
Citation Information
Alceli Ribeiro Alves. "Considerações acerca do Aglomerado Metropolitano de Curitiba na perspectiva da Cidade-Região Global"
VII SIMPGEO (SIMPÓSIO PARANAENSE DE PÓS-GRADUAÇÃO EM GEOGRAFIA)
(2014)
Available at: http://works.bepress.com/alves_alceliribeiro/4/