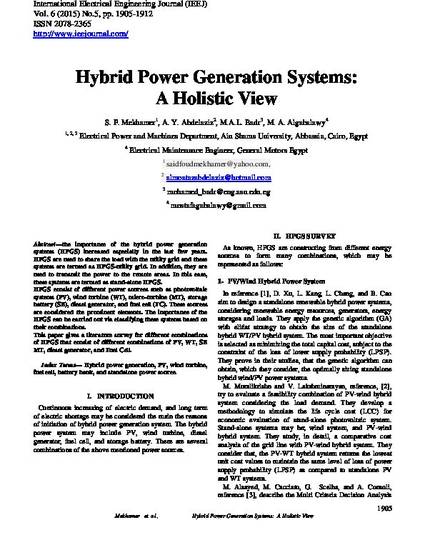 Article
Hybrid Power Generation Systems: A Holistic View
International Electrical Engineering Journal (2015)
Abstract
The importance of the hybrid power generation systems (HPGS) increased especially in the last few years. HPGS are used to share the load with the utility grid and these systems are termed as HPGS-utility grid. In addition, they are used to transmit the power to the remote areas. In this case, these systems are termed as stand-alone HPGS. HPGS consist of different power sources such as photovoltaic systems (PV), wind turbine (WT), micro-turbine (MT), storage battery (SB), diesel generator, and fuel cell (FC). These sources are considered the prominent elements. The importance of the HPGS can be carried out via classifying these systems based on their combinations. This paper gives a literature survey for different combinations of HPGS that consist of different combinations of PV, WT, SB MT, diesel generator, and Fuel Cell.
Publication Date
Summer June 15, 2015
Citation Information
Almoataz Youssef Abdelaziz. "Hybrid Power Generation Systems: A Holistic View"
International Electrical Engineering Journal
Iss. 5 (2015)
Available at: http://works.bepress.com/almoataz_abdelaziz/59/