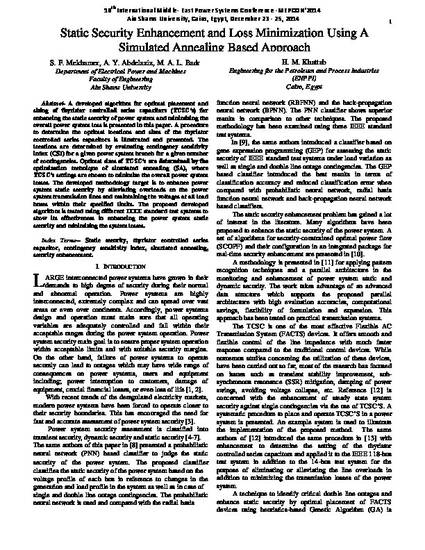 Article
Static Security Enhancement and Loss Minimization Using A Simulated Annealing Based Approach
Proceedings of the Sixteenth International Middle East Power Systems Conference, Ain Shams University, Cairo, Egypt (2014)
Abstract
A developed algorithm for optimal placement and sizing of thyristor controlled series capacitors (TCSC's) for enhancing the static security of power system and minimizing the overall power system loss is presented in this paper. A procedure to determine the optimal locations and sizes of the thyristor controlled series capacitors is illustrated and presented. The locations are determined by evaluating contingency sensitivity index (CSI) for a given power system branch for a given number of contingencies. Optimal sizes of TCSC's are determined by the optimization technique of simulated annealing (SA), where TCSC's settings are chosen to minimize the overall power system losses. The developed methodology target is to enhance power system static security by alleviating overloads on the power system transmission lines and maintaining the voltages at all load buses within their specified limits. The proposed developed algorithm is tested using different IEEE standard test systems to show its effectiveness in enhancing the power system static security and minimizing the system losses.
Publication Date
Winter December 23, 2014
Citation Information
Almoataz Youssef Abdelaziz. "Static Security Enhancement and Loss Minimization Using A Simulated Annealing Based Approach"
Proceedings of the Sixteenth International Middle East Power Systems Conference, Ain Shams University, Cairo, Egypt
(2014)
Available at: http://works.bepress.com/almoataz_abdelaziz/58/