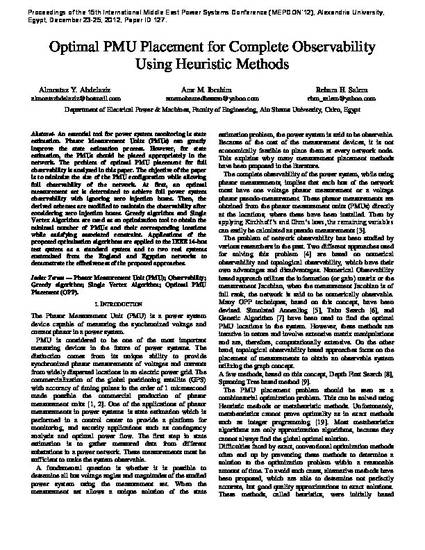 Article
Optimal PMU Placement for Complete Observability using Heuristic Methods
Proceedings of the Fifteenth International Middle East Power Systems Conference, Alexandria, Egypt (2012)
Abstract
An essential tool for power system monitoring is state estimation. Phasor Measurement Units (PMUs) can greatly improve the state estimation process. However, for state estimation, the PMUs should be placed appropriately in the network. The problem of optimal PMU placement for full observability is analyzed in this paper. The objective of the paper is to minimize the size of the PMU configuration while allowing full observability of the network. At first, an optimal measurement set is determined to achieve full power system observability with ignoring zero injection buses. Then, the derived schemes are modified to maintain the observability after considering zero injection buses. Greedy algorithm and Single Vertex Algorithm are used as an optimization tool to obtain the minimal number of PMUs and their corresponding locations while satisfying associated constraint. Applications of the proposed optimization algorithms are applied to the IEEE 14-bus test system as a standard system and to two real systems customized from the England and Egyptian networks to demonstrate the effectiveness of the proposed approaches.
Publication Date
Winter December 23, 2012
Citation Information
Almoataz Youssef Abdelaziz. "Optimal PMU Placement for Complete Observability using Heuristic Methods"
Proceedings of the Fifteenth International Middle East Power Systems Conference, Alexandria, Egypt
(2012)
Available at: http://works.bepress.com/almoataz_abdelaziz/56/