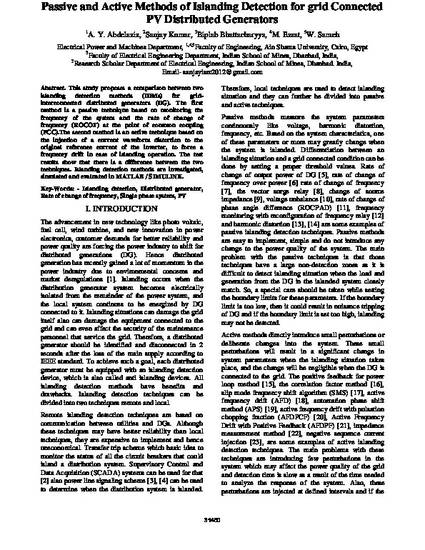 Article
Passive and Active Methods of Islanding Detection for Grid Connected PV Distributed Generators
International Journal of Applied Engineering Research (2015)
Abstract
This study proposes a comparison between two islanding detection methods (IDMs) for grid-interconnected distributed generators (DG). The first method is a passive technique based on monitoring the frequency of the system and the rate of change of frequency (ROCOF) at the point of common coupling (PCC).The second method is an active technique based on the injection of a current waveform distortion to the original reference current of the inverter, to force a frequency drift in case of islanding operation. The test results show that there is a difference between the two techniques. Islanding detection methods are investigated, simulated and evaluated in MATLAB / SIMULINK.
Publication Date
Summer June 1, 2015
Citation Information
Almoataz Youssef Abdelaziz. "Passive and Active Methods of Islanding Detection for Grid Connected PV Distributed Generators"
International Journal of Applied Engineering Research
Vol. 10 Iss. 44 (2015)
Available at: http://works.bepress.com/almoataz_abdelaziz/51/