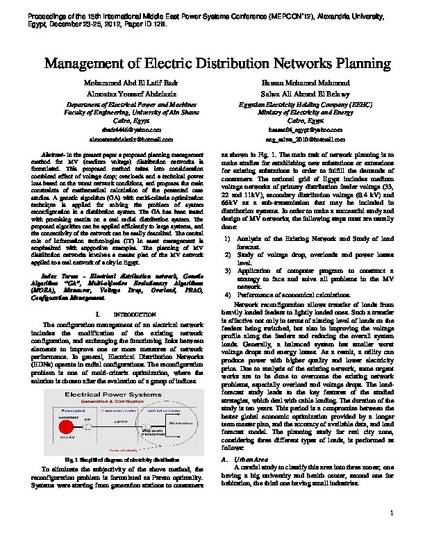 Article
Management of Electric Distribution Systems Planning
Proceedings of the Fifteenth International Middle East Power Systems Conference, Alexandria, Egypt, December 23-25, 2012 (MEPCON'12) (2012)
Abstract
In the present paper a proposed planning management method for MV (medium voltage) distribution networks is formulated. This proposed method takes into consideration combined effect of voltage drop; overloads and a technical power loss based on the worst network conditions, and proposes the main constraints of mathematical calculation of the presented case studies. A genetic algorithm (GA) with multi-criteria optimization technique is applied for solving the problem of system reconfiguration in a distribution system. The GA has been tested with promising results on a real radial distribution system. The proposed algorithm can be applied efficiently to large systems, and the connectivity of the network can be easily described. The central role of information technologies (IT) in asset management is emphasized with supportive examples. The planning of MV distribution networks involves a master plan of the MV network applied to a real network of a city in Egypt.
Publication Date
December, 2012
Citation Information
Almoataz Youssef Abdelaziz. "Management of Electric Distribution Systems Planning"
Proceedings of the Fifteenth International Middle East Power Systems Conference, Alexandria, Egypt, December 23-25, 2012 (MEPCON'12)
(2012)
Available at: http://works.bepress.com/almoataz_abdelaziz/46/