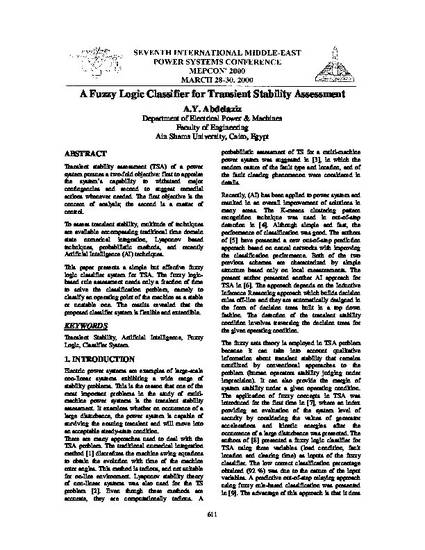 Article
A Fuzzy Logic Classifier for Transient Stability Assessment
Proceedings of the Seventh International Middle-East Power Systems Conference MEPCON'2000, March 2000, Ain Shams University, Cairo, Egypt (2000)
Abstract
Transient stability assessment (TSA) of a power system pursues a two-fold objective: first to appraise the system's capability to withstand major contingencies and second to suggest remedial actions whenever needed. The first objective is the concern of analysis; the second is a matter of control. To assess transient stability, multitude of techniques are available encompassing traditional time domain state numerical integration, Lyapunov based techniques, probabilistic methods, and recently Artificial Intelligence (AI) techniques. This paper presents a simple but effective fuzzy logic classifier system for TSA. The fuzzy logic-based rule assessment needs only a fraction of time to solve the classification problem, namely to classify an operating point of the machine as a stable or unstable one. The results revealed that the proposed classifier system is flexible and extendible.
Publication Date
March, 2000
Citation Information
Almoataz Youssef Abdelaziz. "A Fuzzy Logic Classifier for Transient Stability Assessment"
Proceedings of the Seventh International Middle-East Power Systems Conference MEPCON'2000, March 2000, Ain Shams University, Cairo, Egypt
(2000)
Available at: http://works.bepress.com/almoataz_abdelaziz/4/