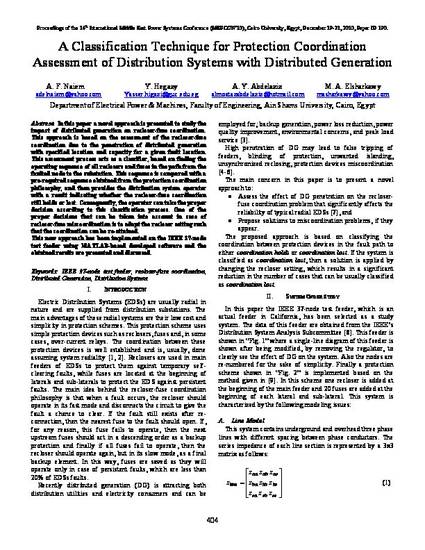 Article
A Classification Technique for Protection Coordination Assessment of Distribution Systems with Distributed Generation
Proceedings of the Fourteenth International Middle-East Power Systems Conference MEPCON'10, Cairo University, Cairo, Egypt, December 2010 (2010)
Abstract
In this paper a novel approach is presented to study the impact of distributed generation on recloser-fuse coordination. This approach is based on the assessment of the recloser-fuse coordination due to the penetration of distributed generation with specified location and capacity for a given fault location. This assessment process acts as a classifier, based on finding the operating sequence of all reclosers and fuses in the path from the faulted node to the substation. This sequence is compared with a pre-required sequence obtained from the protection coordination philosophy, and then provides the distribution system operator with a result indicating whether the recloser-fuse coordination still holds or lost. Consequently, the operator can take the proper decision according to this classification process. One of the proper decisions that can be taken into account in case of recloser-fuse miscoordination is to adapt the recloser setting such that the coordination can be re-attained. This new approach has been implemented on the IEEE 37-node test feeder using MATLAB-based developed software and the obtained results are presented and discussed.
Publication Date
December, 2010
Citation Information
Almoataz Youssef Abdelaziz. "A Classification Technique for Protection Coordination Assessment of Distribution Systems with Distributed Generation"
Proceedings of the Fourteenth International Middle-East Power Systems Conference MEPCON'10, Cairo University, Cairo, Egypt, December 2010
(2010)
Available at: http://works.bepress.com/almoataz_abdelaziz/31/