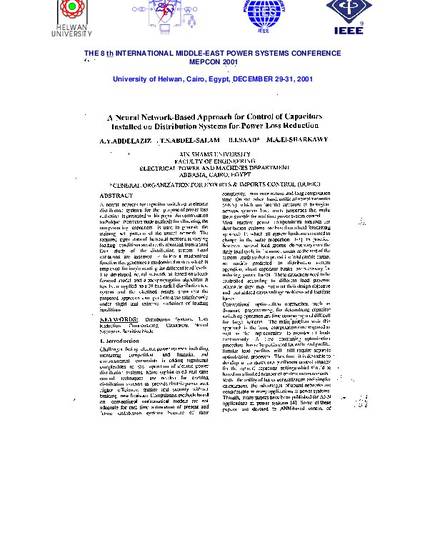 Article
A Neural Network-Based Approach for Control of Capacitors Installed on Distribution Systems for Power Loss Reduction
Proceedings of the Eighth International Middle-East Power Systems Conference MEPCON'2001, Helwan University, Egypt, December 2001 (2001)
Abstract
A neural network for capacitor switching in electric distribution systems for the purpose of power loss reduction is presented in this paper. An optimization technique (sensitive node method) for allocating the compensating capacitors is used to generate the training set patterns of the neural network. The required input data of the neural network at varying loading conditions are directly obtained from a load flow study of the distribution system. Load variations are assumed to follow a randomized function that generates a randomized matrix which is employed for implementing the different load levels. The developed neural network is based on a feed-forward model and a backpropagation algorithm. It has been applied to a 30-bus radial distribution test system and the obtained results show that the proposed approach can perform quite satisfactorily under slight and extreme variations of loading conditions.
Publication Date
December, 2001
Citation Information
Almoataz Youssef Abdelaziz. "A Neural Network-Based Approach for Control of Capacitors Installed on Distribution Systems for Power Loss Reduction"
Proceedings of the Eighth International Middle-East Power Systems Conference MEPCON'2001, Helwan University, Egypt, December 2001
(2001)
Available at: http://works.bepress.com/almoataz_abdelaziz/21/